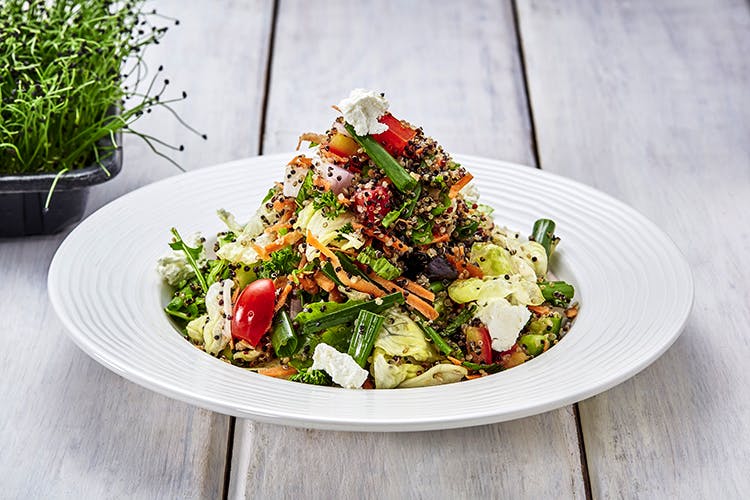 Delivery Available

Wi-Fi Available
Warm Salad Bowls To Avocado Smoothie: Load Up On Guilt-Free Fare At This Health Bistro
Shortcut
Koramanagala's, Market Table's take on guilt-free fare will leave you with an appetite for farm fresh warm salad bowls, cafe bites, and sugar-free smoothies.
What Makes It Awesome
In what's an already crowded lane of 5th Block Koramangala, a wooden entrance welcomes you to the cute Market Table where the wooden entrance is just an extension of the bistro's wooden-themed and minimalistic decor. MT's menu is all-out European fare save for one or two options.
Browsing the menu, we spotted options that are quite close to home and comfort. Enter Batata Harara, a Lebanese spiced dish consisting of baby potatoes all tossed in olive oil, garlic, jalapeno, onions, bell peppers, and roasted cumin.The MT Start-Up Chicken an oven-roasted chicken with a hotter-than-hell sauce (it packs a punch for anyone who can't handle spice) won over the Wheat Chia rolls that came with vegetable and cajun chicken stuffing. The light bites are perfect if you are coming in for a quick snack or want to munch on something while counting calories. Salads form the main course with an option of having it as a warm bowl, wrap, and a whole wheat grilled sandwich. We opted for a warm bowl with stir-fried noodles. If you are really watching your calorie intake, you can opt for quinoa or brown rice, and, you can create your own salad bowl with endless options of sauces and top-ups for you to mix and match. The Kafta-marinated lamb did the trick for us when consuming fresh greens that are all sourced locally.
Sauces, dips, and bread are all made in-house and keeping with the MT's calling card — keeping it healthy, tasty, and definitely guilt-free. Berry Punch and Golden Vitality are what we recommend to sip on. The Golden Vitality with its turmeric-ginger-coconut water mix might not be for everyone, but it does grow on you after a couple of sips. Avocado mousse is something that you need to try as is the Frozen Yoghurt Bark.
Pro-Tip
There's WiFi available, so maybe working out of a bistro can be on the cards one of these days.

Comments
Delivery Available

Wi-Fi Available