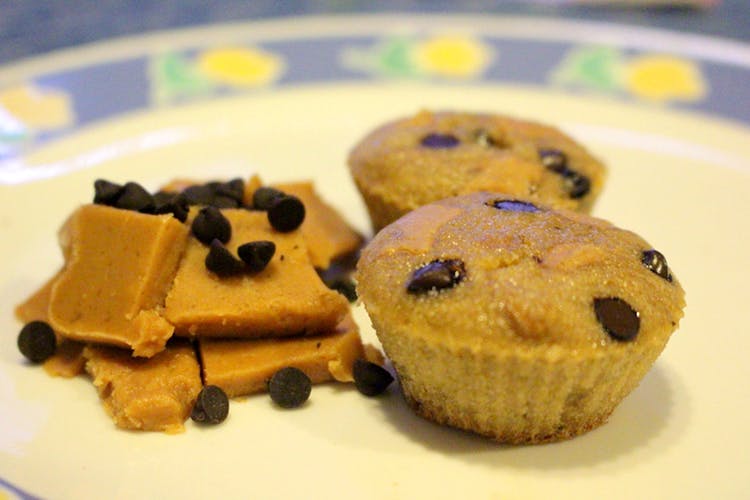 Jaggery Muffins To Avocado Chocolate Mousse: 6 Spots To Hit Up For Healthy Desserts
The road to health and fitness should not necessarily lead to abstinence from all the good things in life like dessert! Team LBB's pushing back, and are giving you ways you can indulge in all things creamy, chocolate-y and sweet without any of the guilt involved, because believe it or not, there are plenty of healthy dessert options available in Bangalore! From raw chocolate mousse to black bean brownies, the options are extensive, and are perfect to enjoy in moderation without breaking your diet.
Om Made Cafe
We love Om Made Cafe for their beautiful rooftop ambience and small but thoughtful raw food selection! End your meal on a sweet note with their Raw Chocolate Avocado Mousse for something indulgent but still very healthy! If you're not the biggest chocolate fan, go for their Papaya Cream, blended with coconut for that extra creamy texture.
Fresh Pressery Cafe
Peaceful ambience and cold pressed juices are what Fresh Pressery Cafe is known for, but we're especially loving their healthy, delicious desserts! Try out their fudge-y Dark Chocolate Brownie made using amaranth flour and raw sugar that's both rich and healthy, or their low-fat Chocolate Granola Parfait if you're in the mood for something a bit lighter. They also have a vegan Chia Seed Pudding made using coconut milk and organic honey, yum!
Fitbakes
This home bakery makes yummy treats without using any of that bad stuff — honey instead of sugar, oats and quinoa instead of flour, and cocoa instead of sugary chocolate. Try out their Black Bean Brownies or Banana Walnut Cake after a meal, or even their Blueberry Chia Muffins as a breakfast snack!
Milano Ice Cream
We think gelato is better than ice cream, and thanks to its lower sugar and fat content we think it's perfectly acceptable to go a little wild at Milano. With mouthwatering flavours like whiskey cream, avocado and creme brûlée, who can say no? If you want something a little fruitier, try their selection of sorbets which are incredibly light on the tongue.
Carrots Restaurant
Aside from their great selection of vegan food, we're loving their healthy selection of desserts — try out their Jowar Coconut Jaggery Cookies, Multi-grain Jaggery Muffins and Coconut Milk Pannacotta, also available in gluten-free versions! They also have some homemade seasonal fresh fruit ice creams we're dying to try out.
Taantraa
This home bakery switches up usual baking ingredients with healthier alternatives like almond flour and jaggery. Check out Taantraa's Almond Rose Coconut Cake for something a little offbeat, or the Almond Coffee Chocolate Cake if you're into more traditional baking flavours. And the best part is they look absolutely scrumptious — you won't even realise it's good for you.
Didn't include your favourite place for healthy desserts? Tell us in comments below!
Comments