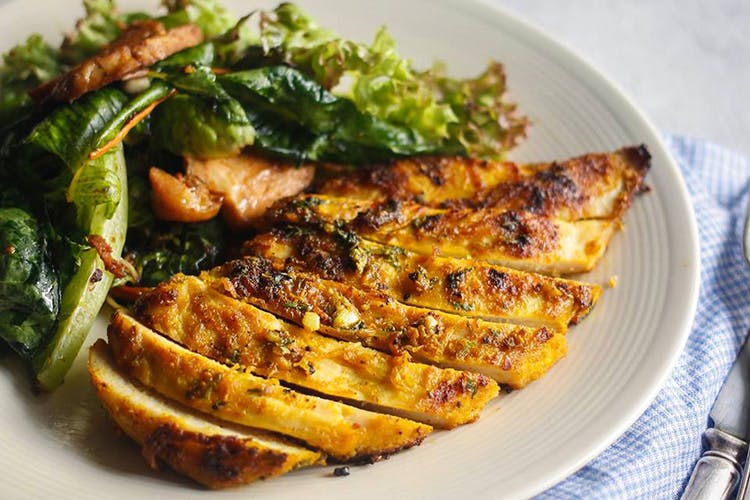 Grow Fit, Chef Kraft Or Purple Basil: 10 Services In Bangalore For Healthy Work Lunches
Committed to eating healthy this year? Us too. That is also why we know how tough it is to order in food that is tasty but doesn't pile on the calories. So we scouted around in advance, and ordered from a few places. These food services in Bangalore will help you stay on track.
Fit Dish Fetish
Get a fresh start to 2018 with this online, food delivery service. You can order up meals from their website and choose from a variety of salads, wraps, starters, and main course options. Some of their breakfast options include chia-banana-peanut-butter toasties and oat pancakes. Wraps come in fish, grilled chicken and even egg options, while devilled eggs, Teriyaki chicken and Zucchini Pizza will keep the munchies away. If you plan to make healthy eating part of your daily routine, then, you can sign up for their subscription plans that last between three months and a year. The platform also offers fitness plans.
ChefKraft
One of Bangalore's best known food delivery startups, ChefKraft has a loyal following because they sure know how to make healthy food taste good. Those of you in and around Indiranagar can treat yourself to ready-to-eat meals that include Teriyaki Pita Sandwiches, Roasted Pumpkin Soup, Spice Rubbed Roast Chicken and Penang Curry Noodles. They also have a 20-day Keto meal plan if you are swear by the diet.
Fresh Pressery
Specialising in cold-pressed juices, Fresh Pressery now also salads and breakfast jars that will ensure that you stay on top of your health. For brekkie, you can choose from Chia Seed Pudding, Overnight Oats, and Chocolate Granola Yogurt Parfait. For lunch, you can keep it light with no-frill Greek or Caesar salads. If you are aiming for a thorough cleanse, then, sign up for their salad and juice cleanses that last up to a week. 
Purple Basil
With Purple Basil, even junk food can be healthy! From Asian Noodle Salads to Black Bean Burgers, Dosas and Coconut Stew, and brownies made with beans, you can order up delicious meals from here. If you want to sign up for meal plans, they have those too. You can choose between their regular meals and diet plans that include vegan and high-protein options.
Cure Fit
Fitness, meditation and food come together on this platform. You can log on and browse through their Eat.Fit section to order up your next health fix. They take care of all your meals – from breakfast to dinner. For lunch, you can tuck into hearty bowls of Rajma and Chawal, Massaman Curry, and rotis with a variety of sabzis. You can also sign up for their subscription plans.
The Well Dressed Greens
After a successful run as a delivery service, The Well Dressed Greens has now opened up a cafe in Koramangala. So, if you are working in the vicinity, just turn to Swiggy to bring you a nutritious meal from here. You can chomp on fresh salads made with ingredients like avocado, chicken, oranges, dates, and pears. Their Spice Orange Chicken and Greek Salad Pita Pockets are worthy picks too.
Enerjuvate Cafe
One of 2017's best-rated restaurants, Enerjuvate is in Jayanagar and Koramangala too. Again, it's menu is accessible on Swiggy and you have plenty to choose from. You can nibble on momos made from ragi, Amaranth pizzas, Jowar wraps, and stir-fried millets. They also offer gluten-free options.
Hwealthcafe
HSR folks! You can happily jump on the health wagon this year thanks to this cafe. Planning on brekkie for lunch? Then, order up the Southie Med Dalia Upma that's got plenty of veggies in it or the Zen Whole Wheat Pancakes. They also have grilled chicken burgers, spicy paneer wraps, and guilt-free desserts.
Vaathsalya Millet Cafe
Embracing local foods this year? Then, dial up this JP Nagar cafe to deliver the goods. As the name suggests, they celebrate millets here. And you can sink your teeth into dosas, uttapams, and idlis made by them. Their Millet Thali that includes rotis, veggies, a sweet dish and other accompaniments is an excellent choice too.
Growfit
One of Bangalore's hottest, health food startups, Growfit is a subscription service that offers various plans. All you've go to do is get on to their website and choose an option that suits you. The Whole Grain Office Lunch will bring a simple meal to your desk and, usually, it includes flaxseed rotis, a light pulao and assorted curries. The Stay Fit and Lean Machine plans are for those of you who want to follow a dedicated diet.
Comments