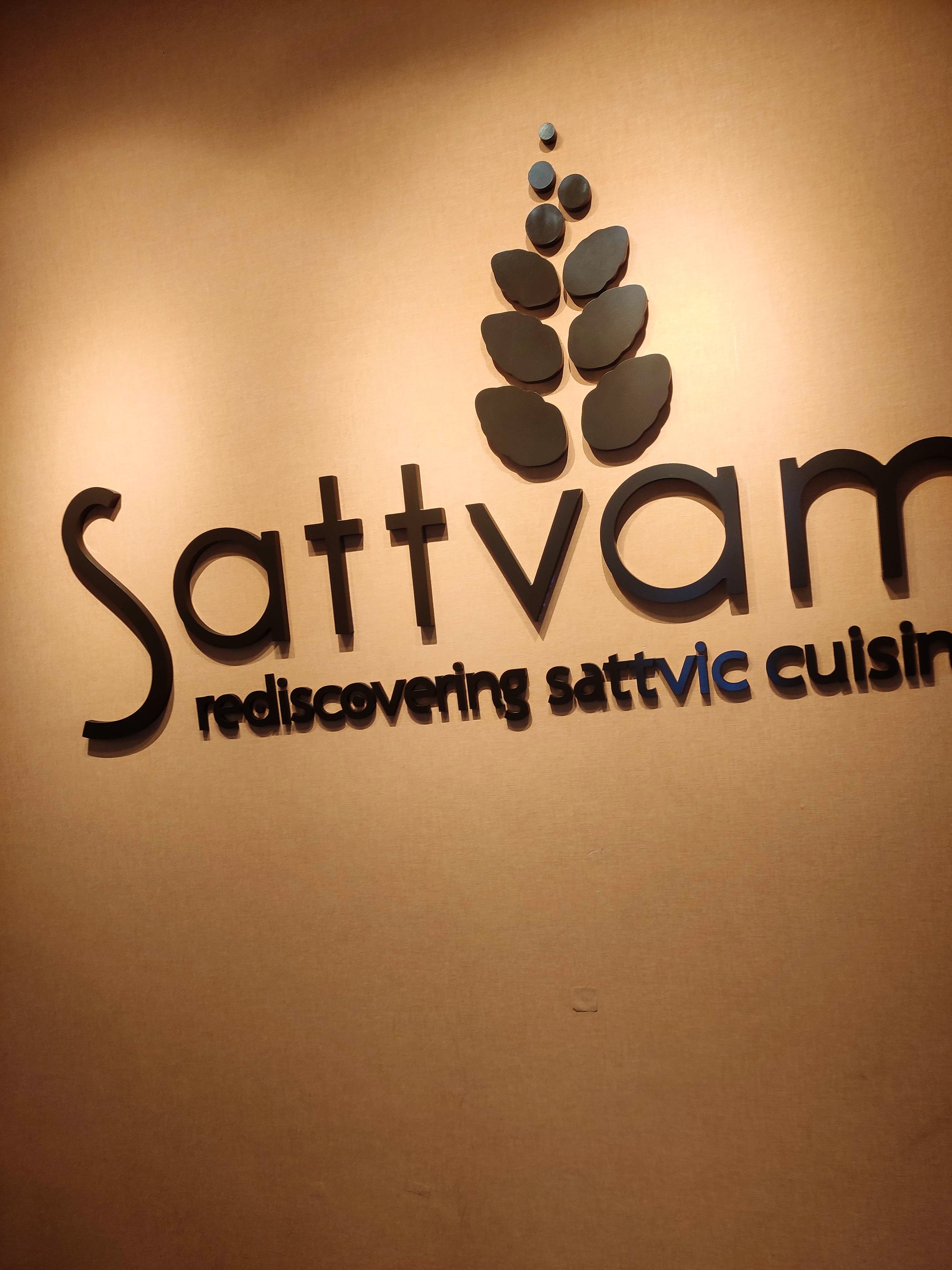 Nearest Metro Station:

Sampige Road
Vegetarian & Buffet Indian Dishes Inspired By Sattvic Principles
What Makes It Awesome?
Today was my third visit to Sattvam but to their new branch in Whitefield, first of all, a big thank you to bring Sattvam to a location which is much closer to me so that now I can just find a reason to visit it any time I want. On the review part, I wish I had added a more detailed review about them when I visited it first time probably way back when they had just opened in Sadashivnagar and I had fallen in love with food. Nevertheless, it is better late than never. First of all the USP of Sattvam of why they stand out is their speciality of serving a complete Sattvik food without onion and garlic and yet giving you an exotic taste and feel of food that you will just fall for it. And serving their guest with fresh food with just minimal portion kept outside which can be replenished when consumed and yet served fresh, plus adding their kind and personal touch with great hospitality to make you feel special. Let me start my review with the review on the location: Its located at a prime location because one way you have Phoenix and VR mall and another side you have big residential apartment and office complex. The building in which they have put in Sattvam has a nice basement and open parking space with valet parking option so no worries when it comes to parking and in terms of its location, its situated on 3rd floor with ample space to walk around inside and has around a dining space of probably 75-100 people. Food: I think I have already mentioned that I fell in love with food when I visited food. The food here is presented and garnish that it just doesn't taste awesome but it also gives you an exotic feeling, because of the presentation that's done with food. Talking about the detail of the food and drinks that I had. By the way, they serve starters/soups and drinks on the table and rest of the buffet is your pick. So our buffet started with: -Kesar Shikanji which was so refreshing with a nice kick of Kesar with every sip, this was served with some papad and fried baby corn starter with 6 different types of dips. The best among dips for me was tomato salsa, a mixed combo of sweet and tanginess in taste. Babycorn starter was good too. Post this they served us with some more exotic dishes like -Sandwich Jalebi Dhokla(dhokla sandwiched in two pieces of jalebi) - a yummy affair - Ragi Papdi Chaat served on liquid nitrogen fumes, an awesome chaat dish -Crispy baby corn is again very yummy. - An innovative Chocolate Pani-Puri served with a shot of orange juice, the pani-puri itself was just awesome, the juice wasn't even required with it from my perspective - Crunchy spinach sparklers(crunchy spinach served in papad) All this followed by a platter of 4 different started having Sheekh Kabab, Bharwa Potato, Hara Bhara Kabab(best on this platter) and Paneer(never had this soft paneer) By this time we were almost done and then we were served with a yummy Strawberry Litchi Drink which was so soothing and yummy for taste buds By the way, all the above was still on the table. This is when we thought what next and chef told, all done for table and we can head to buffet, yes you heard it right, all this without even touching any item on the buffet Here comes the list of the buffet: -Kachori Chaat - too good -Dahi Vada - awesome -Pani Puri(suji) with sweet water)- awesome And then I thought I will go with the main course. I took a bit to taste Dal Makhni, Corn Kofta, Chana and Bhatura, this was my pick from the buffet and all were awesome Now comes my favourite part: i.e desserts This place is heaven for anyone who has a sweet tooth and I have one so it was heavenly. Serving more than 20+ desserts covering from: 1. Cham cham, awesome 2. Rasmalai: awesome 3. Moong Daal Halwa: awesome(came as sugar and sugar-free, both were equally good) 4. Exotic Ghevar with rabdi and fruits topping: awesome 5. Chenna based sweet with mango: awesome 6. Triffle Pudding: too good 7. 5-6 varieties of cake I tried: All were awesome 8. Ice cream Roll: awesome 9. Fresh Fruits 10. Sugar free Cake 11. Lemon Pie
What Could Be Better?
They are just perfect so nothing.
Best To Go With?
Family, Big Group, Bae, Kids.
Comments
Nearest Metro Station:

Sampige Road