The information in this post might be outdated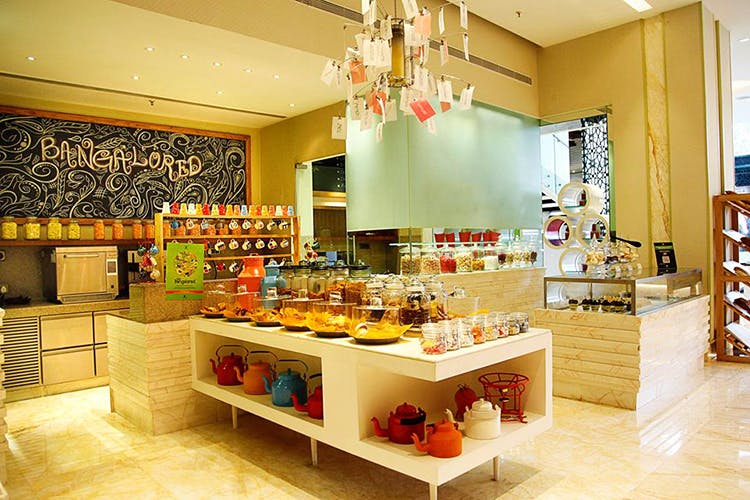 Score An Elaborate High Tea At The Bangalore Baking Company For Just INR 450 Only
Ten-Second Takeaway
At the delightful patisserie of the JW Marriott hotel – Bengaluru Baking Company, an all-you-can-eat high-tea buffet awaits.
Chow Down
Everything from the dessert bar — from fresh cream treats to chocolate mousse and cheesecakes. You have been warned, make sure your appetite is ready for this.
Sip On
Good old fashioned tea, but you can also sip on coffee or green tea.
Winning For
Their waffle and pancakes. A live cooking counter is setup with homemade compotes.
Lowdown On The Ambience
A bright and chic cafe, with luxe details like marble and soft pastel decor, the BBC Bakery has plenty of charm and character, along with an alfresco seating. The second floor is perfect for bringing in your work with laptop stations or reading a book. The bakery has an island station which displays all the choices for the buffet.
What's On The Menu
A feast with savoury and sweet dishes, prepare yourself to set aside atl east an hour or two – this high-tea is indulgent with plenty of variety. From chaats to buttery puffs and biscuits that go well with masala chai, a lot of these treats are made fresh, on the spot. The dessert section has plenty of cheesecakes, cakes, mousse with additional toppings. The pancake and waffle counters have the option of pairing it with fruit compote and dessert toppings. Of course, no high-tea counter can ignore sandwiches, so expect on here too.
So, We're Thinking
Running everyday from 3-7pm, the high tea costs only INR 450 which is a real steal. Whatever the occasion, you don't really need an excuse, do you?
#LBBTip
Enjoy the savoury with tea, and the desserts with coffee for the perfect pairing.
More Information
Bengaluru Baking Company - JW Marriott Bengaluru
Nearest Metro Station: M.G. Road