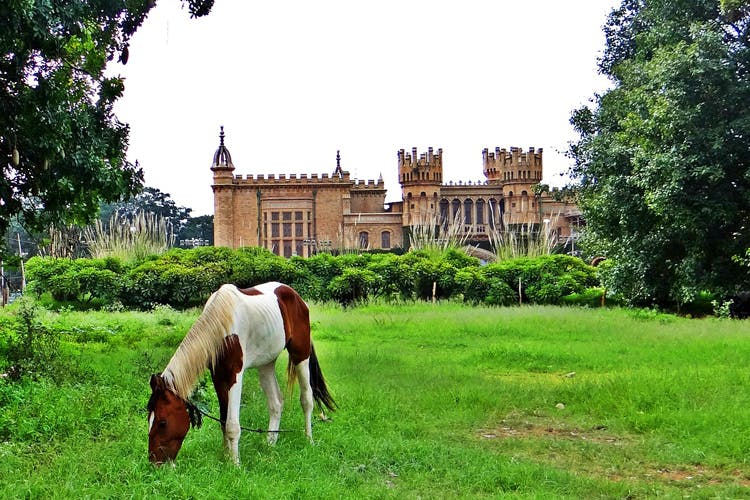 Go Back In Time To The Glory Days Of Bangalore With These Historical Places In Town
We may have been a small, rather nondescript town, till much after Independence, but that doesn't mean we don't have our history! Bangalore City is filled with tales, myths and everything historic, and here are few places where you can witness the city's history at its best. Go on, turn back time at these historical places in Bangalore.
Bangalore Fort
Through the busy hustling KR Market, make your way to the majestic remains of the 16th century Bangalore Fort. Although it is one of the city's oldest monuments, not too many Bangaloreans would've actually visited the place. In the 21st century, all that remains of the fort is glimpses of Bangalore city's origins, the Delhi Gate and two bastions. But this was once the fort of Tipu Sultan. During the British rule, they marched in and destroyed most of the fort except what remains. Just let your mind do some additional imagining, and see the grandeur of it!
Read more about it here.
Tipu Sultan's Summer Palace
Right in Bangalore City's centre, Tipu's Summer Palace gives you a glimpse into Tipu's life and Indo-Islamic architecture. Spend almost a good few hours here and also get clicking as the aesthetic is lovely. Not too far away from KR Market, Tipu's Summer Palace is where you can travel back in time and get a feel of what Bangalore was like in the 18th century. What catches your eye first is the sturdy teak pillars with elegant arches and domes. Pay close attention to the details on the ceiling and doorstep and spot carved motifs all over. 
Read more here.
Bangalore Palace
A popular destination for a lot of weddings and concerts, the Bangalore Palace is a historical architectural beauty standing tall since 1887. Styled similarly to French and English castles, the Bangalore Palace was designed by Rev J Garrett, and was bought by the Maharaja of Mysore Chamarajendra Wadiyar X at that point of time. After almost a century, the palace is still the property of the Wodeyars of Mysore. Surrounded by large grounds, the building is great for history buffs and art and architecture lovers. In fact, this one is one of our favourite historical places in Bangalore.
Read more here.
Devanahalli Palace
If you want a day of history, heritage, temple exploring and a picnic in a fort, plan a road trip to the Devanahalli Fort that is not more than an hour's drive from the city. Start with the west-facing entrance to see elaborate plasterwork. A stone pathway takes you through the fort's 500-year-old history and lets you in on some stories. Walk around and get a good understanding and feel of the architecture of the place. Also look out for 12 bastions at the fort and climb up on them for a great view of the Bangalore-Hyderabad highway.
Check out our recommendation here.
Vidhana Soudha
The Neo-Dravidian-style Vidhana Soudha is the seat of the state legislature while the red Attara Kacheri houses the High Court. In 2005, an annex called the Vikas Soudha was inaugurated, designed as an exact replica of the Vidhana Soudha. Though these buildings cannot be visited, they can be viewed from the outside. It makes for a great background for pictures, and right opposite is Cubbon Park for a leisure park day. Also, make sure you go at dusk when the lights are put on and everything looks splendid.
Comments