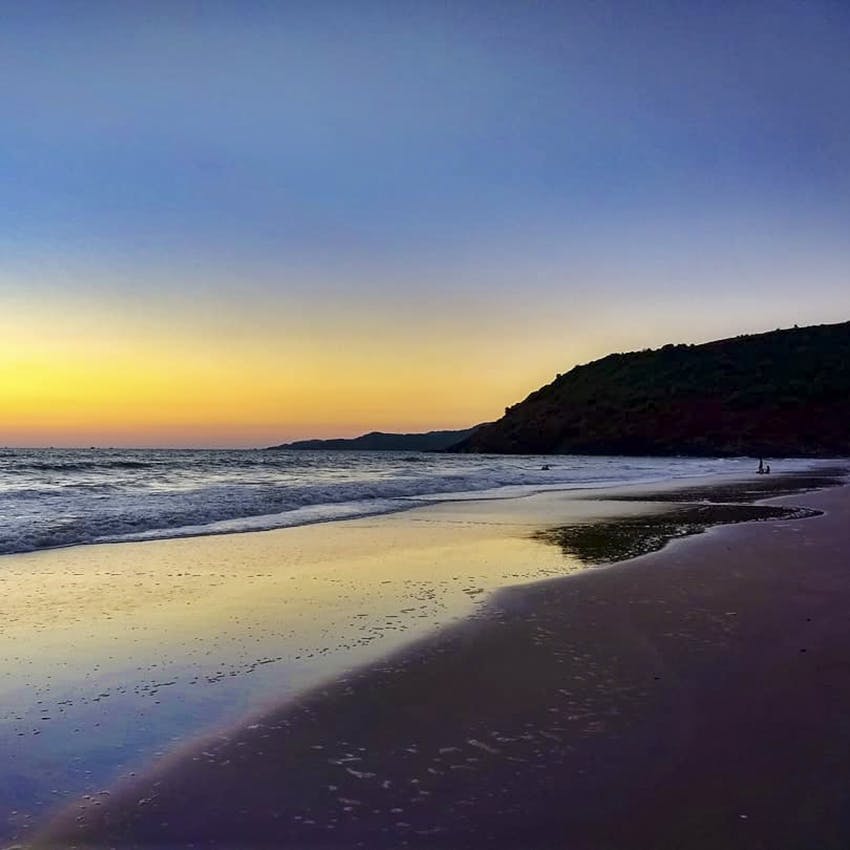 Catch Some Vitamin Sea At The Best Beaches In Karnataka
Planning a beach vacay for a much-needed break? Well, first of all, we're jealous. Secondly, with Karnataka's spectacular shoreline that faces the Arabian Sea, there's a ton of options for you to choose from. Here's our list of the best beaches in the state so we can vicariously live through you!

Kudle
Spend a chill weekend with your squad as you sip on chilled beer, play volleyball by the sea or hang out with backpackers just lazing around. The northern end of the beach connects to the main Gokarna beach, while the southern end leads to rocky hills that take you to Om Beach. Either way, the view of the sun setting over the beach with the greenery of the valley is truly a sight to behold! Gokarna is about 479 km from Bangalore. The best way to get here is by bus (it might take you 8.5 hours) or make a road trip out of it!

Half Moon Beach
If it isn't obvious already, this Gokarna beach got its name because of its crescent moon shape. Separated from Om Beach by a cliff, the beach offers stunning views of the Arabian Sea. Enjoy activities like paddle boating and canoeing here. It's also a great holiday spot to go with bae - the infinite sea beyond and the lush jungle behind makes it feel as if you're the last two people on Earth (apart from all the other tourists, that is!). Quite romantic, no?

Paradise Beach
If you're looking for some peace and quiet after all your city trauma, we point you to Paradise Beach. The only way to reach here is by trekking from Half Moon Beach or catching a boat from any of the other beaches in Gokarna. If you are trekking, just know that the climb can be a little challenging because of the rocks, so it'll be quite a workout. Plus, the last time we checked, there's only one little shack on the beach, so it'll just be you and the sea!

Om Beach
More popular than Gokarna itself, Om Beach is known for its Om shaped appearance. With a long, winding beach that has rocks jutting out and the beautiful Arabian Sea in front you, it's the perfect place to go to escape the crowds of Goa. You're bound to run into plenty of backpackers, yogis and even Buddhist monks here. Our personal favourite cafe here is Namaste Cafe, which is carved out of a rock!

Nirvana Beach
If you're looking for some alone time, just head to Nirvana Beach. With rocks on one end and crabs crawling out of the sand on the other, this beach is secluded from tourists and the commercial bits of Gokarna. Explore the small-town beach life as you watch the fishermen in colourful boats, or get that dose of exercise in with a short trek to the nearby beaches.
Malpe
Right as you near this Udupi beach (it's about 6km from the city), you'll find yourself being greeted by the sound of waves, and shacks that sell everything from seafood, snacks and meals to toys, balloons and tiny souvenirs. Head here with your friends and sink your toes into the white sand as you take pictures for the 'Gram. The palm and coconut trees, the cool breeze and rocky shoreline make for great #vacaygoals. Udupi is 403 km from Bangalore. Reach here by an overnight bus journey or catch the Karwar Express train to Udupi!

Kaup
Locally known as Kapu, this beach (about 6 km from Malpe) is where you should go for fun. Think banana boats, jet skis and dolphin spottings in the mornings. There's also a towering 110-year-old lighthouse that's surrounded by rocks, where you can climb up and pretend you're Magellan the explorer as you catch breathtaking views of the sunset and the endless sea!

St. Mary's Island
Floating on the Arabian Sea off the coast of Malpe, the St. Mary's Islands are a set of four islands that are nothing short of a hidden gem. The only way to get here is by boat from Malpe. Find here incredible basalt formations to climb and pose on (great Insta material to make your coworkers jealous!) or go jet skiing for some adventure.

Kodi Bengre Beach
Located about 18 km from Manipal University, Kodi Bengre (aka Delta Beach) is a secluded beach that makes it a peaceful, serene and quiet spot to spend an afternoon. Walk along the sand, or take the road, and enjoy the silence. You could even be lucky and befriend a street dog to accompany you on that walk! Look for a shack on the way that serves delish seafood and neer dosas, at really cheap prices!

Panambur
Known for its cleanliness and safety, Panambur Beach is one of the most visited beaches around Mangalore. The beach is always buzzing, what with everything form festivals and boat races to beach sports and sculpture contests! Surfing especially is gaining popularity. If you want to try your hand at it, head to nearby Kodi Bengre where there are plenty of surf shops that will help you learn the sport under expert guidance. Mangalore is 352 km from Bangalore and 55 km from Udupi. The best way to reach here is by flight, of course. But if you're short on dough, you can always go by bus!

Ullal Beach
Escape the hustle and bustle of the city and head to this golden stretch of sand near Mangalore. Around the beach you can explore historical sites like the ruins of Rani Abakka's fort, the 500-year-old Sayyid Madani Dargah and St. Sebastian's Church. While you're at it, make sure to visit the Summer Sands Resort for a magnificent view of the sea!

Tannirbhavi
Get away from the crowd at regular Mangalore beaches and spend a romantic evening with bae at Tannirbhavi. To get here, take a ferry from Sultan Battery, the watchtower built by Tipu Sultan himself! The waters of the river and sea merge here and make for a spectacular sight, especially during the sunset. Just bear in mind that since the water is turbulent, the lifeguards may not allow you to go for a dip!

Maravanthe Beach
With the NH66 running between the Sowparnika River and the Arabian Sea, Maravanthe Beach is unlike anything you've seen! In fact, it's so clean and tranquil that it's called the Virgin Beach. Apart from spending your time lazying here, you can also visit the Maraswamy Temple and the few nearby islands that are dotted with palm trees and farmlands. There's also boating cruises, scuba diving, fishing and snorkelling in case you want to do something offbeat. Located near Kundapura, Maravanthe Beach is 432 km from Bangalore. The best way to get here is by bus.

Murudeshwar Beach
A beachside pilgrim town, Murudeshwar is known for having the world's second tallest statue of Lord Shiva. With hills on one side and the blue Arabian waters on the other, it's the perfect escape from your daily life. At the city, there's plenty to explore - there's the Netrani island, scuba diving options and a bustling market to shop from! Located about 488 km from Bangalore, you can head here by bus or catch a train to Belgaum and then change to Murudeshwar from there.

Karwar
Head to Karwar for its unspoiled beaches, historic sites, wildlife sanctuaries and mountains. Camp at cottages and hotels that offer rooms at about INR 1,000 per night and gobble up on South Indian vegetarian delicacies. Non-vegetarians, fear not: there's plenty of seafood for you to dig into! With a distance of 522 km from Bangalore, the best way to reach Karwar is by bus.

Comments