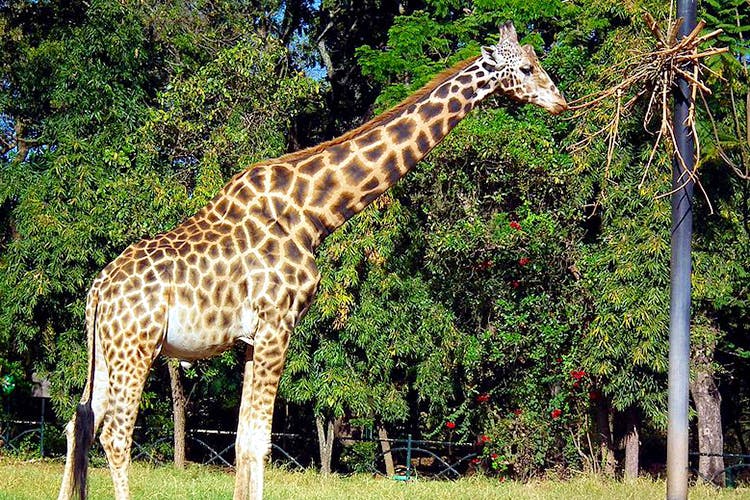 Summer Holiday Attractions In Karnataka To Visit With The Kiddies
School's out and the summer hols are in full swing! Which means that your parental duty to keep your kids entertained, through the day, and out of mischief has kicked in. If you are planning on taking them on an adventure in Karnataka, we know just where you can escape to. From zoos to waterfalls and fun museums, here's a list of holiday attractions you must visit with the kiddies!
Sri Chamarajendra Zoological Gardens @Mysore
A weekend getaway in Mysore can prove to be rewarding for, both, the kiddies and their adults. While the adults can marvel at the city's royal palaces, the kiddies can make the most of their trip to the vast Mysore Zoo. We recommend you get there early and spend hours chilling with the giraffes, tigers, lions, elephants and hippos that inhabit the zoo.
Om Beach, Gokarna
Popular with families and hip travellers, Gokarna's sun and sand promises plenty of excitement. Om Beach, that's nestled amidst lush hills, is a must visit. Here, you can spend your time building sand castles or splashing about in the calm waters. You can also sign up for boat rides, parasailing, or ride off into the sunset on a jet ski. If you are looking for a quieter beach town with the same fun activities, then, Karwar will work well for you. 
Jog Falls, Shivamogga
Want to leave the little ones gobsmacked? Then, all roads, for you, lead to the majestic Jog Falls. The Sharavathi River thunders down a rocky chasm to create the second-highest plunge waterfall on the Indian subcontinent. Raja, Roarer, Rocket and Rani – the four cascades that make up Jog Falls – are best visited during the monsoons.
Rail Museum, Mysore
One of Mysore's quirkiest offerings, the Rail Museum should delight the kiddies and the child in you! From the ticket counter that's fashioned out of a train bogey to the vintage, powder-blue Austin rail cars – there's plenty to love here. Established in 1979, the museum also displays old locomotives, royal coaches from the Maharaja of Mysore, and offer mini-train rides to the little ones.
Dubare Elephant Camp, Coorg
Sitting on the banks of the River Cauvery, Dubare Elephant Camp offers you and your brat pack the chance to interact with one of Nature's most splendid creatures – elephants. To make the most of your trip, you can park yourself at the Jungle Lodges that's part of the camp's grounds. In the mornings, you can help groom an elephant and watch as their mahouts lovingly feed them. You can also sign up for coracle rides that'll see you drift along the waters of the Cauvery while keeping your eyes open for a crocodile enjoy his time in the sun.
Brindavan Gardens, Mandya
Sitting on the outskirts of Mysore, Brindavan Gardens has been a favourite with generations of families. A quick drive from the city will get you there and you can spend your day strolling across the gardens and hopping on for a boating experience. Of course, the musical fountain display in the evenings is a must watch!
Nagarhole National Park, Coorg
When you want to give your children a peek into the State's wildlife, you best head to Nagarhole National Park, that sits at the edge of Karnataka. Your babies and you can gawk as spotted deer stare back at you or when an elephant nonchalantly sashays by. Tigers, bison, wild dogs, civets and a host of other animals and birds call this place home.
National Parks & Wildlife Sanctuaries
Ranganathittu Bird Sanctuary, Mandya
One of the best picnic spots around Bangalore, Ranganathittu is where your kid's imagination can take flight! Here. the thick woods that surround the River Cauvery welcome winged creatures from across the globes. You and the kiddies can hop on a rickety boat and sail across the waters to catch glimpses of painted storks, spoonbills, black-headed ibises, herons, and spot-billed pelicans.
National Parks & Wildlife Sanctuaries
Visvesvaraya Industrial and Technological Museum, Bangalore
Let Science not be confined to boring textbooks! Spend a Sunday at Bangalore's very own industrial and technological museum to earn brownie points with your kids. Your grey cells are going to get plenty of exercise as you try your hands at cool experiments, watch 3D shows, and discover the secrets of the Universe. If your kid loves space and dreams of being an astronaut, then, the Jawaharlal Planetarium is worth a visit too.
Bannerghatta National Park, Bangalore
Planning a picnic that doesn't take you far from Bangalore? Then, the Bannerghatta National Park is the perfect spot! The kiddies are sure to squeal with delight as they come face to face with leopards, monkeys, peacocks, and elephants at the zoo. You can then embark on a safari where lions, tigers and bears await you. And finish up with a visit to the colourful Butterfly Park. 
National Parks & Wildlife Sanctuaries
Comments