With This Awesome Community, Skateboarding Is The New Walking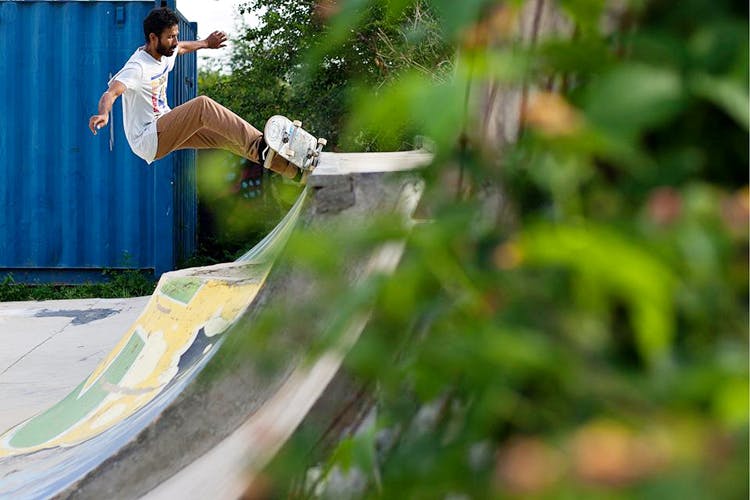 Shortcut
HolyStoked has revolutionised the skating scene in Bangalore, bringing parks, classes, products, events and competitions to ramp it up!
New Skate Of Mind
HolyStoked Collective started as a bunch of skateboarding enthusiasts in 2011, and has now become India's ambassador for the sport. With the aim of promoting skateboarding culture, HolyStoked Collective raises funds, conducts classes, hosts events to show how skateboarding can be a way of life. The collective helps builds free skate parks around the country, as well as hosts various coaching programs and workshops in parks and schools. They are also on a mission to help underprivileged kids, teaching them skating as a means of empowerment. They've worked with NGOs like SISP in Kovalam and assisted in building Janwaar Castle, India's first rural skatepark in Madhya Pradesh.
Go With The Flow
Closer home, the enterprise holds classes at Play Arena in Sarjapur, which is also home to a host of various other sporting activities, such as rock climbing and go karting, and The Cave Skatepark in Hegde Nagar near Jakkur. We favour the Cave which is a flow park meaning that once you start skating it's pretty much a free flow — the perfect place to practice and get into your skating zone. Cave also has HolyStoked's physical skate store, so if you're looking to pick up gear you can find a great selection of boards and accessories imported from the US.
If you're interested in skating but not sure you'll be able to commit, these guys are happy to temporarily loan boards to get your head into the sport. If you'd like to help support their mission and have an empty plot of land you'd like to rent out temporarily, hit them up — they'd love to hear from you! We're stoked. Are you?