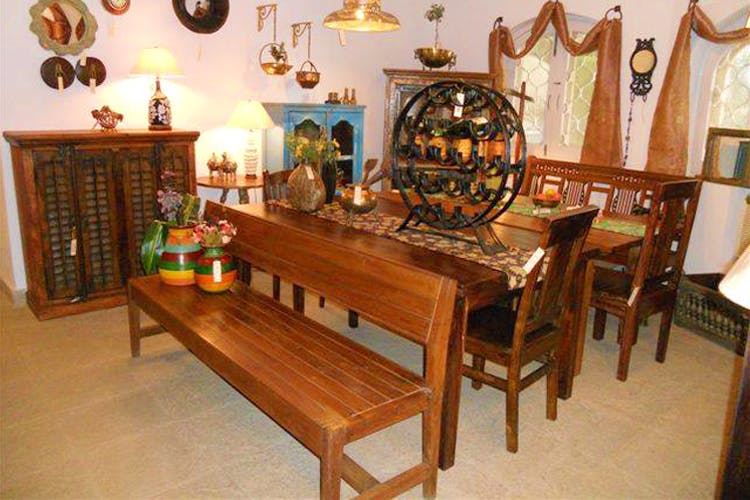 Abundant Old-School Charm And A Bit Of Whimsy At Sunri Lifestyle
The Scoop
Nestled in a curve of Nandidurga Road is a charming two-floor house, the entrance to which is flanked by two six-feet tall metal frogs with the demeanour of a gentleman's gentleman, holding a salver for cards. That should clue you in to what you're likely to find inside this gorgeously appointed home improvement store: old school charm with whimsy.
The Style
These folks scour beautifully built pieces with solid craftsmanship and give it a new lease of life. Furniture with distressed paint jobs done just so – that is something they are great at. They also have a lot of antique looking prints on various surfaces, varying from bottle openers to clock faces. Another area they make look easy is reusing genuine antique pieces: old doors that would have once graced a Chettinad house for instance, now find themselves recommissioned as a table top. Every piece here has been curated and crafted with an eye for beauty. The animal motif is strong in the candle holders, table ornaments with pieces like hens shaped out of wire. You will find many ancient looking distressed painted windows, which open to reveal mirrors.
What We Love
The colonial looking clocks. There are plenty of lampshades to choose from, be it lovely old-fashioned ones or contemporary ones, with wire shades and bicycle parts. There are tables of varying sizes and uses, with sewing machine bottoms. There are breathtakingly beautiful shelves with heavy old-fashioned doors that creak as they open. You know, the kinds where, on a rainy day, if you part open the mildewy coats and step in, you might step out of Narnia? Yup, exactly.
Who It's For
The person who likes to daydream reclined on a stuffed armchair. That other person who enjoys the idea of their gleaming MacBook's texture against a silky teakwood roll top desk. And the one who loves collecting tchotchkes with a colonial angle.
Price: INR 1,000 upwards
Find out more about them here. Follow them on Facebook here.
More Information
Sunri Lifestyle
Nearest Metro Station: Cubbon Park
Comments