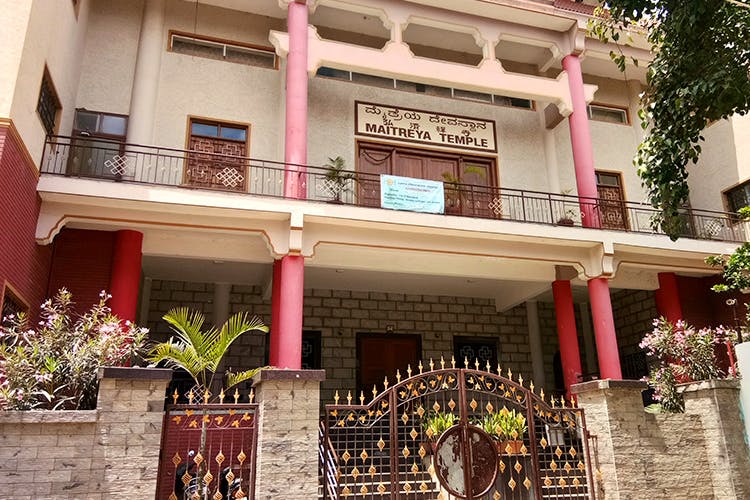 For Inner Peace And Fresh Tofu, Austin Town Wins!
Shortcut
One of the city's best-kept secrets, the Hong Chi Monastery is an oasis of peace where you can spend an hour or two meditating. Or you can source downy, melt in the mouth tofu and batches of fresh bean sprouts from here.
What Makes It Awesome
Amidst the narrow of bylanes of Austin Town, sits a little-known treasure — the Hong Ci Monastery, also known as Maitreya Temple. We recommend you ditch your car (two-wheelers can pass through, we reckon), and trudge to the gates of this monastery. On your way up the stairs, large, open pots with calmly floating lilies greet you.
The monks here practice Taoism and the monastery is said to be the offshore branch of the Guang Ji Temple in Taiwan. On the ground floor of the monastery is a temple complete with a serene Buddha wrapped in gleaming, gold vestments, Chinese vases, and inscriptions. While services are held for practitioners of Taoism, the temple is open to all. And you can come by to meditate or just enjoy some quiet.
If you are a tofu fan, this is by far the best place to source fresh, soft tofu, that you'll never find on the supermarket shelf. While previously, the tofu was made in house, now they have outsourced to a vendor nearby and an in-house resident collaborates in the process. Half a kilo is priced at 70 bucks. The crunchy, fresh bean sprouts (INR 40 per kilo), however, come from the monastery's humble kitchen gardens. If you are looking to buy, do give them a call before dropping by and you can pick it up at the monastery's reception. For bulk orders, you'll need to place an order in advance

Pro-Tip
This is NOT a tourist spot and out of respect for the practitioners at the temple, we wouldn't recommend stopping by for selfies.
Comments