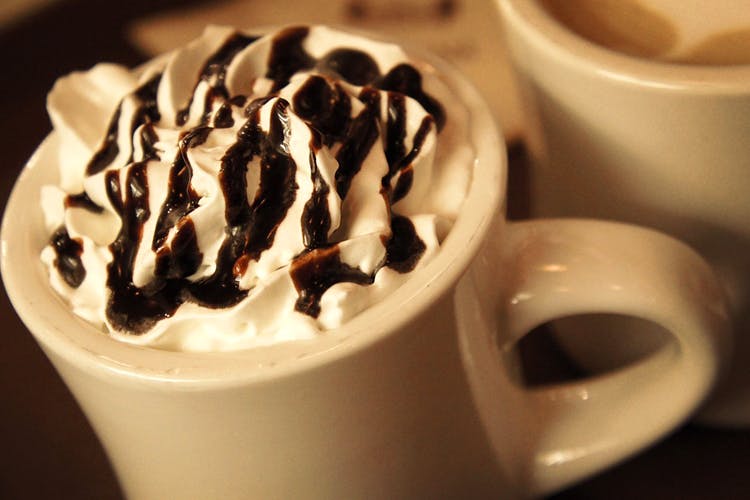 Molten, Chocolaty And Hot: Here's Where You Can Slurp On Hot Chocolate In Koramangala
Nothing can make you feel warm and toasty from the inside out quite like a giant mug of steaming hot chocolate. And if you are in Koramangala, you'll be glad to know that there are plenty of cafes that serve up delicious and creamy versions of the classic drink. Here's where you can grab a cup of hot chocolate in Koramangala.
LBB's Loving
The Pied Piper
Readers' Vote
Starbucks
Onesta
Well, nothing can top off the soul comfort that a pizza offers better than a mug of hot chocolate. At this popular pizzeria, you can sip on the frothy and milky drink that brims with the goodness of chocolate. Perfect for when you want to end your meal on a sweet note but don't want to indulge in a dessert.
The Pied Piper
When you want to go all out with a mug of rich and dark hot chocolate, just head to this charming roadside cafe. One of the best items on their compact menu, the drink is definitely worth the extra calories. We really love that they don't skimp on the chocolate here and the dollop of whipped cream on top is a delicious touch.
Hole In The Wall Cafe
Have a king-sized breakfast at this Koramangala joint and then sip on their hot chocolate. If you are here on a nippy morning, nothing will soothe you better than greedy gulps of their flawless hot chocolate that strikes the perfect balance between milky and chocolaty. Struggling with a hangover? Then, their hot chocolate is a great remedy.
Carrots
Want to try a vegan version of hot chocolate? Then, order one up at this well-known restaurant. They use soy, coconut or cashew milk to give the drink its undeniable creaminess. And into the milk, they, dunk melting, dark chocolate. If you like, they'll top it off with whipped cream too. The resulting drink is delicious and surely worth sipping on.
Om Made Cafe
This cafe boasts of a spectacular, open-air ambience that makes for a perfect spot to sip on hot chocolate on a chilly evening. We recommend that you stop by here with your friends and warm up with mugs of their luscious hot chocolate while catching up on the latest gossip. The cafe's menu offer a variety of sandwiches and burgers that will pair perfectly with your drink.
Starbucks
While this international coffee chain's winter drinks has many drooling, their hot chocolate remains an undeniable favourite. The steaming chocolate milk is made even more delicious thanks to the added flavours of mocha and vanilla syrup. They, then, crown the drinks with a generous layer of whipped cream that comes streaked with chocolate sauce. They even do a soy milk version if you like.
Bliss Chocolate Lounge
A chocolate lover's paradise, this cafe offers chocolate in a variety of avatars. Swing by, settle in and order up any of the different hot chocolate versions they have on offer. If you prefer the tried and tested version, then, the Belgian Classic is the perfect choice. For those of you who like a dark chocolate drink,  the Ghana Classic makes for an excellent choice. And when you want to spice up things, blindly order the Spiced Belgium Chocolate.
A Cafe
This pretty cafe comes with plenty of vintage details and exudes warmth that's only heightened by their top-notch hot chocolate. They don't try any fancy stuff with the drink here. Just present the warm drink with a sprinkling of chocolate. And that itself does the trick! The pesto sandwich here makes for a killer combination with the drink. For all the details on A Cafe, log on here.
Comments