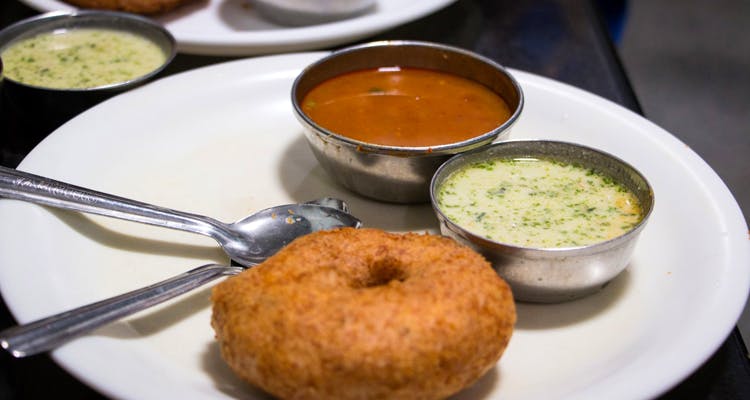 Hotel Janatha For Its Extra Crisp Dosas And Other South Indian Breakfast Staples
Shortcut
For decades now, Hotel Janatha has been serving crisp dosas and other South Indian thindi staples to the hungry customer and the food lover.
First come
Wedged in between a row of shops on the busy 8th main, in Malleswaram, Hotel Janatha has been going about its business since the 70s. Many say that it was one of the first few restaurants to set up shop in the area and while nearby Sree Sagar (once, CTR) and the very recent Veena Stores hog most of the limelight, Janatha has had its steady stream of loyal customers till date.
When you step in, you'll immediately notice that Hotel Janatha has never been into looks. The walls are a hodgepodge of tiles and paint that don't match at all. But no one seems to be bothered. If you don't look like the kind who'd enjoy sitting in the sparse self-service area, you are immediately ushered into the 'Service Room'. The seats are bit more cushiony here and a waiter, clad in a dhoti that's tied around his waist, comes by and rattles off the day's menu.
Breakfast batter
Start off light, with plates of vada and idlis. The vadas are fried to a crunch and along with the downy idlis make for a delightful combination. Once you've got your system sufficiently greased up, get the masala dosas to the table. One of Bangalore's best, the dosas are a glistening brown and hide a generous potato filling that'll make you very happy. Don't go away without digging into a plateful of Kesari Bath. Its creamy consistency and 'just right' sweetness quotient make it a stellar dish. Of course, no trip to Janatha is complete without sipping on frothy cups of filter coffee to finish up.
So we're thinking…
It's high time that Hotel Janatha moves out of the shadow of its more famous competitors and claim its own little place in the spotlight.
Where: 27, 8th Cross, Malleswaram
When: 7.30am-12.45pm, 3.45pm-8.45pm
Price: INR 100 for two
Contact: 080 23345609
More Information
Hotel Janatha
Nearest Metro Station: Srirampura
Comments