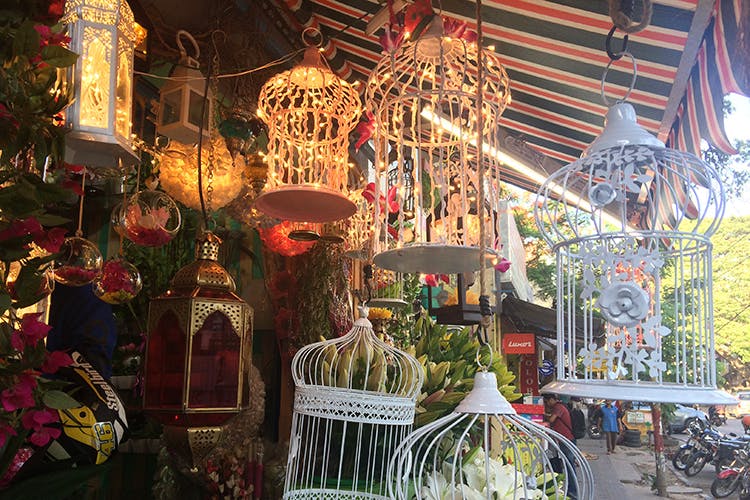 Planning A House Party? Here's A Handy LBB Guide To Help You Throw The Perfect Bash
LBB, as always, is here to help you out. Here's a handy guide that'll have you sorted on the house party front. From mason jars to serve up fancy drinks in, to biryani in buckets for your ravenous guests, here's how to throw a poppin New Year's Eve house party.
Drink Ware From Budget Crockery Stores
Skip the cliche plastic red cups for Your New Year's Eve house party and opt for cute mason jars and glasses to serve up drinks. Hail the next auto and take a trip to Comm Street and check out our favourite budget goldmine for home essentials. With cheap mason jars they have them in quirky shapes too like lightbulbs and milk bottles. They have glassware in all sizes, including tiny glasses (shots anyone?). You can get plates, mugs, bowls and a whole bunch of other stuff for your party from here too. If you're in the Thippasandra area, then maybe you'd prefer to stock up on glasses and cute crockery here instead.
Order In The Alcohol Service
What's a New Years party without some good old booze? With a host of liquor stores like Madhuloka, Dewars Wine Stores and Not Just Wine And Cheese might bring your liquor to you, and you have places for cheese too! Take it up a notch at your house party for New Year and have the bartender come home to make some killer cocktails. Try something new with some homegrown mixers. Keep with the holiday spirit and get some non-alcoholic wines. Oh! And don't forget to party smart. If not, wake up to some Kombucha.
Party Decor
Birdcages, fairy lights, lamps and even fake succulents, turn your space into a fancy and cosy hipster spot for the big New Years Eve party. Just hit up Floral Conceptz, which is a pretty little store that'll have you sorted on the decor front for your house party. These guys have got ornamental birdcages entwined in fairy lights and coloured glass lanterns and lamps that'll kitsch your space right up. Too flamboyant for you? Then opt for the simpler fairy lights or just hit up BVK Iyengar Road with their array of options to brighten the space up.
Bucketfuls Of Biryani
All this partying is bound to work up quite the appetite. And we all know that when it comes to party food, biryani is the safest choice. Make sure you load up on lots and lots of Biriyani for your house party. Serving Muslim-style biryani for a minimum of five and a maximum of 100, your guests' tummies will stay full and happy all throughout, but there are places for smaller crowds too. For a more homely and wholesome spread, check out home caterers for better spreads.
Poppin Party Props
In this age of selfies and Instagram, you gotta have a photobooth at your shindig and props to play around with too. Hit up party stores for all kinds of party favours and props, or get them made and customised, even for theme parties, cutesy props and favours and all.
Fun And Games, Courtesy US!
Kick it old-school with some fun games, and if you're bored of Uno and Monopoly (or want to keep your friendship), check out some Indian board games. Card lovers skip the poker and teen patti, try some Minimize. Of course, you can always stick to classics like Pictionary and Jenga, to cheeky ones like Taboo, to keep the party interesting.
End With Something Sweet
End things (or start the New Year) on a sweet note with yummy popsicles home delivered! If you're just spending it with your squad with a with a movie and PJs, then how about some cookie dough or brownie pops? For more traditional partiers with the whole cake cutting shebang, just get a cake custom-made in every sense of the term to cut when the ball drops
Comments