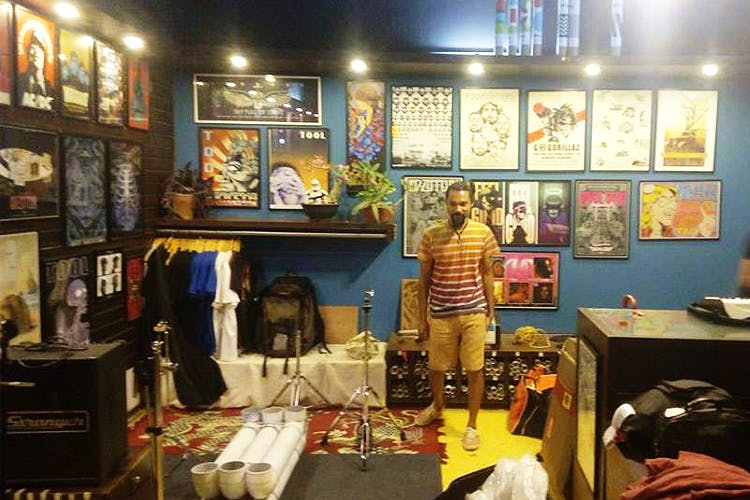 Treat The Geek In You With Some Cool Music Merchandise At Hysteria
Shortcut
Score some exclusive local art, music, international pop culture merchandise and apparel at Hysteria.
Wall Of Fame
The first thing you'll notice the moment you step in, are the walls at Hysteria, littered with a star studded ensemble of imported posters. You'll find Gorillaz, Led Zepplin, Pink Floyd, Sex Pistols, Death Cab For Cutie,  Tool, Red Hot Chili Peppers, Bob Dylan, Rage Against The Machine, and many more familiar faces. On the local side of things, you get to gape at the gorgeous artwork from Dangercat, Be hemp, Gumani, Prasad Bhatt, Reshmi Shekhar and more. You can also grab CDs of local bands, like Live Banned, Raghu Dixit and Thaalavattam here. With t-shirts, postcards, stickers, keychains, fridge magnets, caps, imported concert posters, silk screen posters, Hysteria boasts a serious stockpile of cool stuff.
Gig Alert
Driven by a love for the alternative, the small store aims to make a solid impact on the local art scene. After a series of shutter-down, invite-only gigs on the premises, Hysteria's gearing for bigger things, taking their events to larger venues that can accommodate a sizeable audience. The gigs feature artistes that are left-of-centre, and the best thing is they're all local.
Comments