The information in this post might be outdated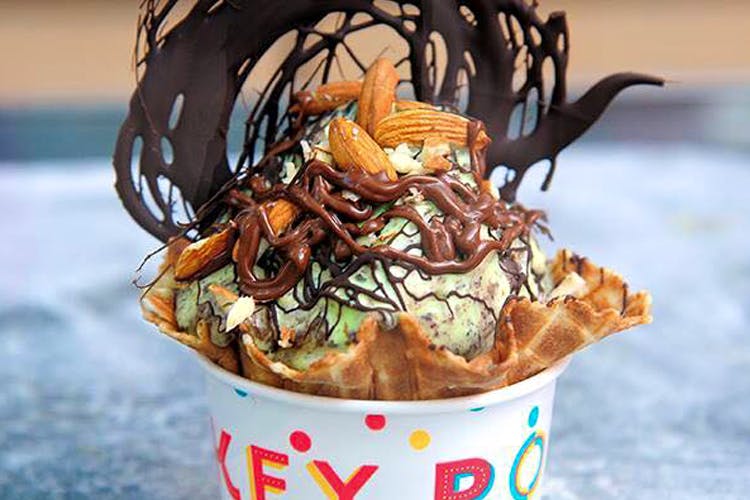 This Ice Cream Place In Koramangala Is Perfect For A Date With Sundaes And Sandwiches
Ten-Second Takeaway
Hokey Pokey is a cute ice parlour on 5th Block Koramangala that serves ice cream rolls, scoops, shakes, and icebergs.
What Is It?
A little ice cream place in Koramangala, this one is best known for the numerous flavours, Greek-style frozen yoghurt, and sundaes that I thought could only exist in dreams.
What Is The Ambience Like?
The cafe has a very colourful decor with ice cream-related puns on the wall. Perfect for date nights and beat the heat after lunch scenes. The live ice cream counter is fun to watch as the ice cream specialist mishmashes flavours and toppings to serve you frozen goodness.
Must Eat
Anything with ice cream. This means everything!
What Was The Experience Like?
My favourite was the Chocolate Assassin and Wonderland Magic. The Assasin comes with 5-Star pieces and chocolate ice cream and is topped with a copious amount of dark chocolate fudge. Better than DBC any day.  The Wonderland is a fruity ice cream with colourful sprinkles that make the ice cream rather Instagram-worthy. And a single scoop is only INR 120. Time to make dessert a proper meal. Oh, the place also does sandwiches and cuppas. The sandwiches are loaded with cheesy for gooey-ness and are yum.