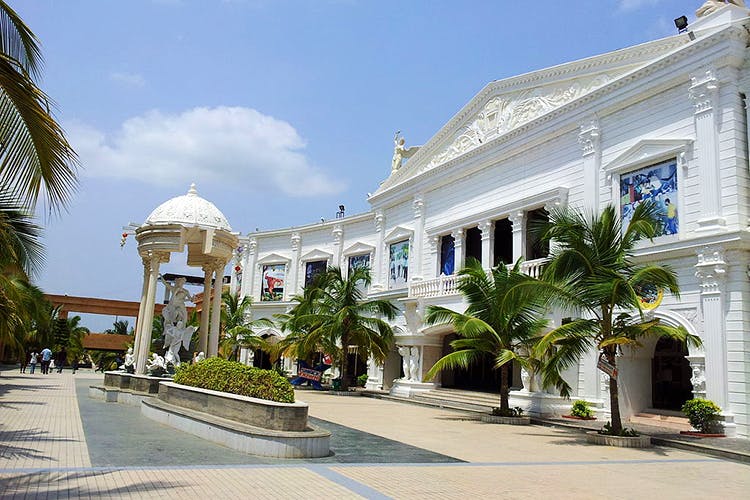 Ripley's Museum, Artificial Beach & Dino Park: Innovative Film City Has Got It All!
What Makes It Awesome
Innovative Film City has a wave pool which you can go and frolic about in the water, or relax on the sand at their artificial beach. You could also get lost in the mirror maze, which glows an eerie red. Since the film city is located about 40 km from Bangalore, you can get here by cab or auto. You can also take a bus from Majestic Bus Stop. Once in, head to the Haunted Mansion, which tests if you're a scaredy-cat or not. Fancy a game of golf? There's a 12 hole mini golf course here, for those who wish to channel their inner Tiger Woods. Apart from these, there's a dino park, cartoon city, and even a petting zoo.
There's a Ripley's Believe It Or Not! Museum here which has life-size figures of the world's fattest man and the world's tallest man. There's also a fossil museum here, located next to the dino park. Head over to the wax museum to pose with Marilyn Monroe, conjure with Harry, Ron, and Hermoine, and maybe even get into a conversation with the Beatles! If nothing, you can always check out the Bigg Boss house! There's something here for the adrenaline junkies as well. Jump into a kart and race away, go off-roading on a quad bike, try your hand at archery and, play some classy straight drives at the net cricket zone here. For food, you have options like Rajbhog and Beach Kitchen. There's also a Jungle Grill restaurant that serves pizzas, burgers and more.
Also On Innovative Film City
Comments