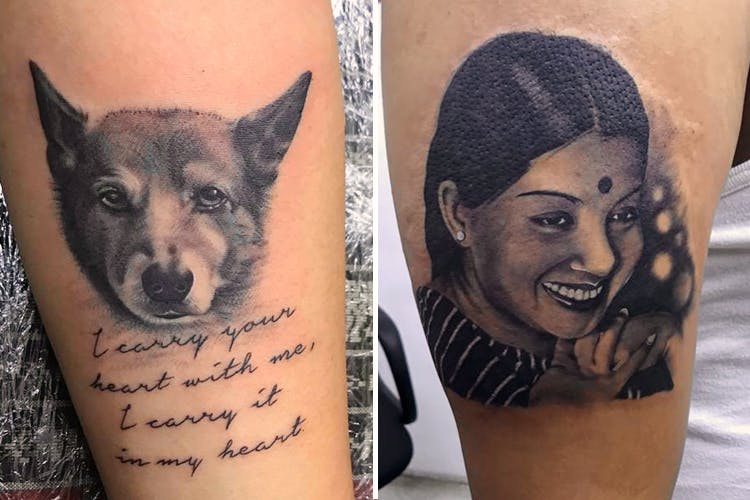 Get Inked Or Learn The Art At Bangalore's Biggest Tattoo Studio In Indiranagar
Shortcut
Touted as Bangalore's biggest tattoo studio, apart from getting yourself inked here, you can learn everything there is to the art of tattooing. Say hello to Irezumi.
What Makes It Awesome
Calling themselves the biggest tattoo studio and academy in Bangalore, Irezumi is located on the residential side of 7th Main Indiranagar and specialises in custom tattoo art and body piercings. But what's more interesting is that apart from being a tattoo studio, they also teach you the art of tattooing from scratch. Yup, all you secret Kat Von Ds and Corey Millers, here's your chance to make it big and leave a mark. Literally! Originally from Chennai, where they have a huge fan base, the man behind the studio is Naveen, a cheerful chap who we had the pleasure of chatting with. Fair warning, Naveen doesn't give out the usual tattoo artist vibes. In fact, when you step into the studio, you will feel that he's more like a guide who at the end of the studio tour will hand you a candy (he doesn't though).
Currently, the studio is helmed by only Naveen who will be bringing more artists in the coming months. Tattooing for almost 15 years now, Naveen's style ranges from Japanese to tribal and abstract to geometric and everything in between. Those looking for minimalist tattoos, he does them too along with portraits. The process is very much like any other studio where Naveen gets an idea of what you are looking for and then it's onto paper for sketching it out. Once the design is approved, it's ink time. Being spacious has its advantages, as the tattoo studio is well lit and doesn't feel dingy. There are no shady tattoo studios on the by-lanes of Bangkok vibes here. We like that Naveen does none of those pre-set designs that you might see in the said shady tattoo studios, so expect a unique tattoo that's been created just for you and no one else.

Pro-Tip
If you go through the website or Facebook page, you will see that no two tattoos look the same. In fact, we love how the studio has combined abstract with animal designs and even done pop culture tattoos (think Joker and The Lion King, and even Hello Kitty!)
More Information
Irezumi
Nearest Metro Station: Indiranagar
Comments