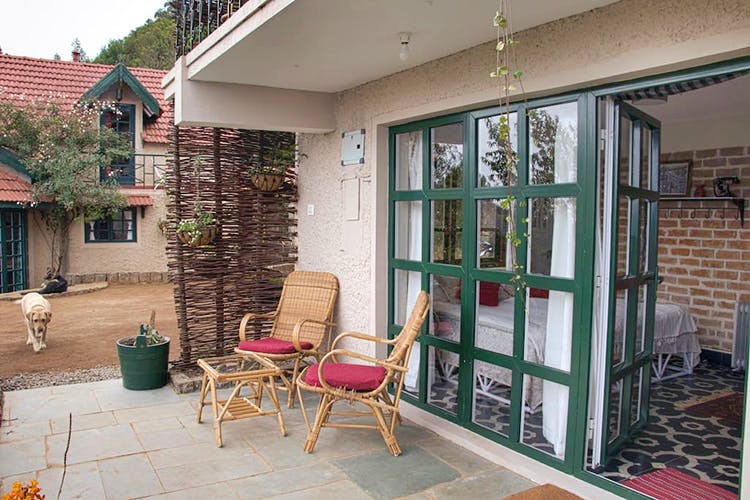 This Quaint Ivy Cottage In Ooty Is For You And Your SO To Book Under INR 2,200
Shortcut
Snuggle up with bae amidst a cottage that overlooks tea estates, forest, and mountain ridges. Ivy Cottage in Ooty is one for the romantic weekend getaways.
Cosy Up In A Cottage
Ivy Cottage at Stumpfields offers that peaceful and secluded retreat, all the while ensuring that all of Ooty's touristy spots are easily accessible with the property being just under a 10-kilometre drive away from the Ooty township. The Insta-worthy cottage is beautifully done up with enough and more spots for you to take candid pictures of your SO. The rather rustic ambience brought on by the exposed brick walls, hand-painted tiles, and wooden furniture, give off that typical colonial-era cottage vibes that Ooty is known for. French windows open out to a private patio where you can sit and enjoy the view or pet the cottage's resident German Shepherd or Labrador. A single queen-size bed makes up the ensuite bedroom with a minimally furnished living area and a well-equipped kitchen.
Exploring The Cottage
If you are on a walk with the doggies in the property, there's a small orchard of fruit trees for you to explore. If you are going during the season, chances of picking strawberries are aplenty. If you aren't snooping around the herb garden, you could just sit on the patio and do a very Ooty thing — sip on a cup of tea and marvel at the view. There's even a barn on one side of the property with horses. Hiking trails through the forest and tea estates are yours to explore if you are looking for a bit of adrenaline rush.
Booking The Cottage
The price for a night's stay in INR 2,166 for two at the time of publishing this recommendation. You can check out rates here.