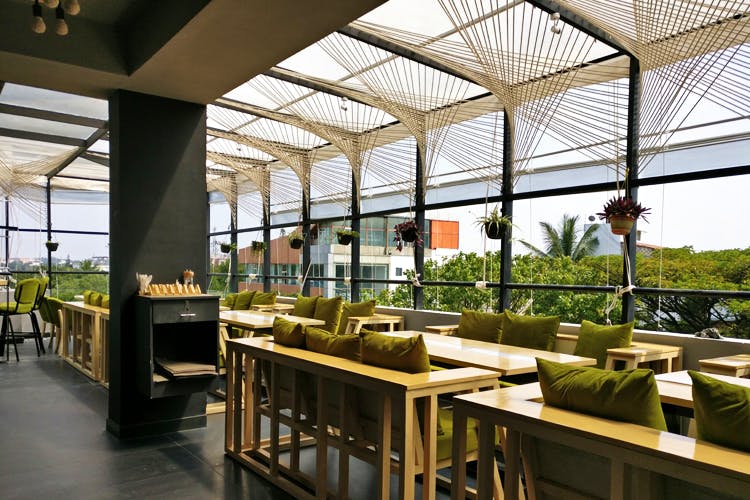 Nearest Metro Station:

Indiranagar
Jonah's Terrace Lounge Is All About The Ambience And Special Cocktails
Shortcut
Tucked onto the roof top of the building which also has Truefitt & Hill, ambience, starters and cocktails steal the show here.
Chow Down
Ricotta Fritters, Chicken Risotto, Hot Beef Pasta Salad and Teriyaki Grilled Salmon
Sip On
Rosy Ramos, Apple Cinnamon Martini, Orange Basil Spritz
Lowdown On The Ambience
We love the atmosphere here – it's like you're in the Mediterranean region. Open, breezy and just what you'd expect of a terrace lounge, there's something about this place that makes you chill out. The many TVs dotting the space help, more so when there's a game of cricket or footy on. We adore the book shelves that you're welcome to pick tomes from for your time here. There's even a special one for the kids!
What's On The Menu
Luckily this place has great ambience, because we aren't gaga over the food. That said, do try the Hot Beef Pasta Salad which works as a light meal – chunks of beef tossed with beans, bamboo shoots and a light teriyaki sauce. The Lemon Chicken Orzo soup isn't for everyone as it is a bit too lemony! The Ricotta Fritters were crispy with molten cheese inside and won our hearts. We were rather disappointed by the Baked Potato Pizza which we longingly looked at while it was being made in the open-plan kitchen. Sadly, it was dry and not fulfilling. Luckily, we had some Rosy Ramos to drown our sorrows in – vodka, lime juice, cream, rosewater and raspberry syrup. Not drinking alcohol? The Orange Basil Spritz will help refresh you as well as a shot of vodka!
Round Two
Our second visit saw us favour the Chicken Risotto which really packed a punch with fresh undiluted basil pesto. The burger version of this chicken pesto too is good. For those counting calories, try the Teriyaki Grilled Salmon. Loaded with Asian flavours of soy, ginger and a honey glaze, it's light and tasty. Pair it with an Apple Cinnamon Martini to look and feel elitist! End with nutty Cashew Brownies or the Tiramisu. The latter, we suspect, really piles on the rum, making it our favourite.
So, We're Thinking…
While we do like the place, the food really doesn't draw us in strongly. We mostly go back for the ambience, and the lovely terrace set up.
Comments
Nearest Metro Station:

Indiranagar