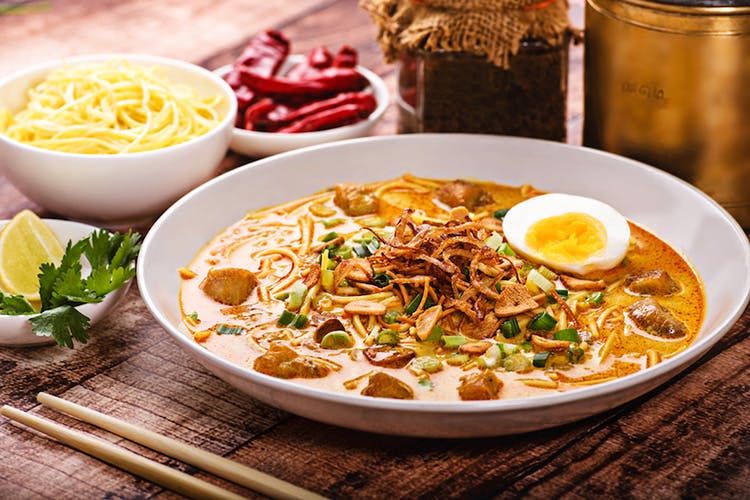 For Bowls Of Burmese Khao Suey And Broth, This Place Hits The Spot
Shortcut
Just Khao Suey now has a physical location on 80 ft road and serves up bowls of wholesome comfort that fills your tummy without draining your wallet.

What Makes It Awesome
Burmese Khao Suey to comfort us on rainy days or at the end of the month? Count us in! Starting modestly as a kitchen inspired by a family recipe passed down through generations (which happens to now be their signature Burmese Khao Suey), to being a food stall at flea markets, Just Khao Suey's little restaurant is for people who are all about savouring their food at the moment.
Traditionally, the coconut milk based dish is lightly seasoned to allow the flavours to really pop with the different textures. The team at Just Khao Suey has taken it up a notch by curating 3 more - Thai Suey, Tam Suey (prepared Tamil style), and Nutty Suey (our personal favourite). The stuffing in their chicken momos are great whether you're having it steamed or pan fried with either of the sauces. Looking for something light? Try their Burmese Tea Leaf salad with their kiwi cooler. Picky eaters can relax as they customise nearly everything whether you want it with extra veggies or with lesser (or more) spice, or even reduced portions!
Being a small establishment, they don't yet provide the authentic experience where diners get the basic dish and customise it with the condiments and other add-ons at the table, but the kitchen is live, so just tell your server how you like your Khao Suey and they'll get it done (like at a Subway, but more efficient) whether you're a connoisseur of Burmese cuisine or just an adventurous foodie. For those of you worried about the shrimp flavour, they don't use any (yet). Finish it up nicely with their coconut souffle (way less coconutty than you expect - of which we approve) or chocolate mousse.
Pro-Tip
If you order in, they send the noodles and broth and the add-ons separately, so it's more experiential, for those of you looking for it!

More Information
Just Khao Suey
Nearest Metro Station: Indiranagar
Comments