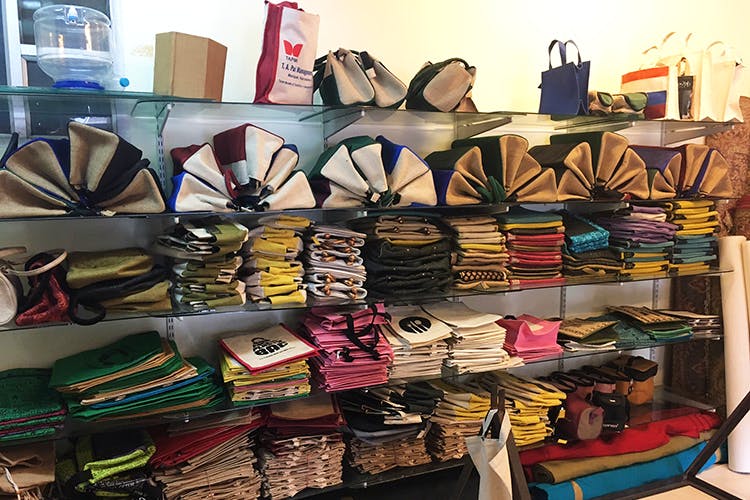 From Wine Bottle Gift Bags To Jute Totes, Bag Them All From This Eco-Friendly Store In Horamavu
Shortcut
Looking for a handy lunch basket or a classy gift bag for the wine you brought to a housewarming party? Eco Seal Green bags will have you sorted.
The Cat's Out Of The Bag
This little shop in Horamavu is our greatest find at SMR Vinay Regency's commercial complex. Packed to the gills with jute bags of every kind, size and colour, this place caught our eye for the sheer variety of cute jute stocked in there. Ecoseal Green Bags has its rails filled with cute totes and gift bags, and shelves stocked with handbags, bag-packs and laptop cases, so whichever kind of bag you're looking for, you're likely to find here.
Looking to replace your plastic grocery bags with eco-friendly and more durable jute alternatives, find them here for only INR 50. Upgrade your gifting game with their rustic and elegant gift bags, that will guarantee you more invitations to people's homes. We also found some snug jute bags that would make for great travel toiletry kits or lunch bags to take to work. Their whole peg is that all their bags are eco friendly, sustainable and super functional, so it's a win-win all round. The pricing is modest, starting at INR 50 and going up to INR 2,000
Stationery Love
These guys also offer stationery, which might be worth a browse. From jute notebook binders to pencil cases, these make for quirky accessories that are just the right amount of kitsch. They also display a range of designer bags from The Kosha Store here. If you're feeling like jute bags are a little too plain Jane, these guys spruce it up with fun colours, lace accents and minimalist embroidery. Find them in hot pinks, mossy greens and deep reds. If you're looking for something a little more understated, we spotted some pale yellow and off-white duffels that we found quite tasteful.
More Information
Eco Seal Green bags
Nearest Metro Station: Baiyappanahalli
Comments