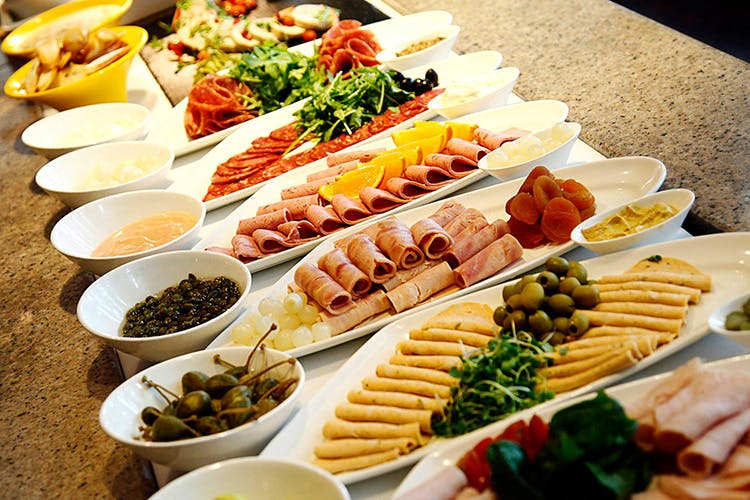 Enjoy A Fancy, Bottomless Lunch Buffet At JW Marriott For Only INR 950
What Is It?
Lunching on Mondays and Tuesdays got infinitely more fancy, and mercifully affordable! How? Well the JW Marriott's coffee shop, JW Kitchen, is offering their usual buffet for just INR 950, inclusive of taxes. This means that from cold cuts, salads and starters to roasted lamb, biryani and of course, all kinds of dessert, you can tuck in to your heart and tummy's content.
Who Is It For?
Be it a lunch date, a business meeting, or just a catch up with friends because the price is so appealing, this is really for everyone. But specifically if you're trying to impress someone without having to break a fixed deposit account.
Why Should I Go For It?
Always too broke to enjoy a fancy lunch? Or simply want to indulge in everything from ham, prawn cocktail and devilled eggs to mutton biryani, fish in lemon butter sauce and lasagne? Then you can't miss this. Plus, unlimited dessert that will really give you a sugar high. You really can't complain about this one. Then throw in the fact that it's a luxury hotel, in the CBD, and suddenly INR 950 seems more than worth it! And if you don't have company, let the LBB Crew know. We're down for this, any time!
When: Monday and Tuesday
Where: JW Marriott Hotel Bengaluru, 24/1, Vittal Mallya Road,
Price: INR 950
Contact: +91 88844 94035
Timings: 12.30pm to 3.30pm
Also On JW Kitchen - JW Marriott
More Information
JW Kitchen - JW Marriott
Nearest Metro Station: M.G. Road
Comments