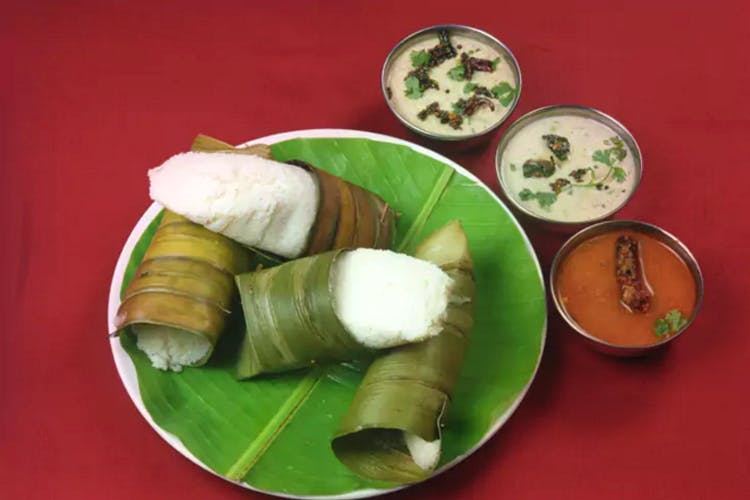 This Mysore Highway Restaurant Is Worth The Trek For Meals, Dosas And Coffee
Shortcut
Heading to Mysore? Make sure to leave just in time to stop for breakfast at Kamat Lokaruchi. Not going to Mysore? Make sure to go to this restaurant anyway!
What Is It?
You'll see the line of cars waiting to park at Kamat Lokaruchi when you approach it from a distance. Not too far from Wonderla, the amusement park, this is a upgraded darshini that serves your usual idli, dosa and vada. It also has amazing Konkan food.
Who Is It For?
Perfect for those travelling on the Mysore Highway, or those happy to make a short road trip for the love of food, this one is for you. You can easily get a meal for under INR 100, but for INR 150 you get buffets and set meals that are well worth the price.
What Is The Ambience Like?
Old Mangalore-style tiles don the roofs of little gazebo that make up the most of this restaurant. There is one main building that hosts bulk of the crowd and that's where you'll go for the buffets. For more laidback meals, pick a separate hut and enjoy.
Must Eat
While you can order a la carte, to help you get on your way quickly, they have a breakfast and dinner buffet for the weary traveller. Covering the main attractions — dosa, idli, vada, upma, akki roti, khara bhath with coffee or tea, for breakfast, and jowar rotis, puris, channa masala, rice, rassam and sambhar with a few other dishes for dinner, you can stop by, refuel and leave. If you're not in a rush, hang around order what you like. The meals are a lovely option for lunch. Think Ragi Mudde meals or Karavali ones. They even have the staple South Indian thali that has everything from kosambari and veg curry to akki roti and payasam.
What Was The Experience Like?
Service is quick, but don't expect the staff for be too chatty. They've got plenty of work to do, and you'll only hold them up if you keep talking. Since it's on the highway, people going out of Bangalore will find it super crowded between 7am and 10am, and then again in the evenings from about 5pm to 7pm. In between is ideal, so time your drive to go when it's not peak hours.
Comments