The information in this post might be outdated
The Hills Are Alive With The Sound Of Nature At This Eco-Resort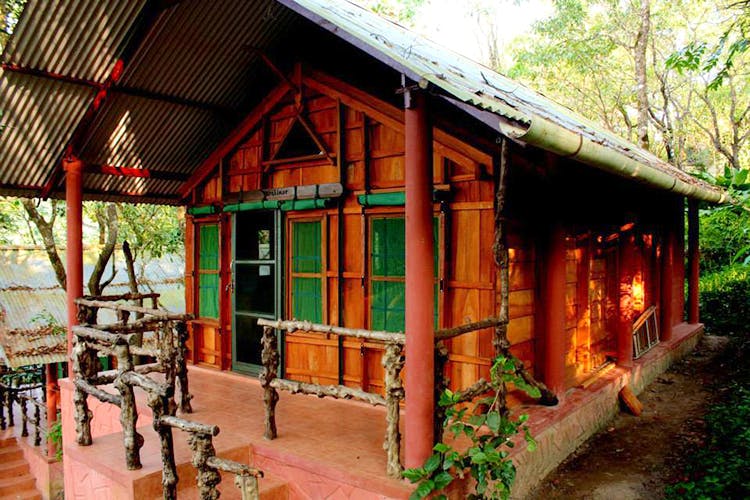 Shortcut
Coffee plantations, forests, rustic vibes and the beauty of the Western Ghats at Kere Haklu Resort

Great For
Service & Hospitality, Nature & Outdoors

What Makes It Awesome
Set in a 275 acre coffee plantation, the wooded wonderland that is Kere Haklu is (still) untouched by the Human influence. An eco-resort (also a UNESCO World Heritage site) in the Kudremukh mountain range (so you know it has all the lush, untamed greenery of the Western Ghats), Kere Haklu promises a true #unplugged experience that will refresh and rejuvenate all you world weary city dwellers.
The resort (which we feel is more like a homestay) provides simple accommodation on site either for a single or double occupancy. For meals, the resort serves simple local food sourced from produce grown in the property and the occasional North Indian item on certain days. Rooms start at INR 2500 per person per night (not inclusive of meals) and go up to 4500 for a double occupancy room for a night (not inclusive of meals).
Keeping in mind the natural surroundings and delicate ecosystems present in and around the location, there's no WiFi (pretend it's the 90's for a couple of days), satellite TV connection – they just have basic coverage of certain network providers, so put up the "will be offline for a few days, call if urgent" status before you leave. For a truly nature immersive experience, take a walk at the estate to catch some part of the coffee harvesting and drying process (depending on the season). Maybe catch sight of a giant Malabar squirrel, monkeys, or barking deer if you're really lucky. If you're luckier still, you might even spot (and eventually get to enjoy) some Kopi Luwak!
What Could Be Better
For bookings, it has to be a minimum of 2 nights, so it's not ideal for a quick weekend getaway.

Comments