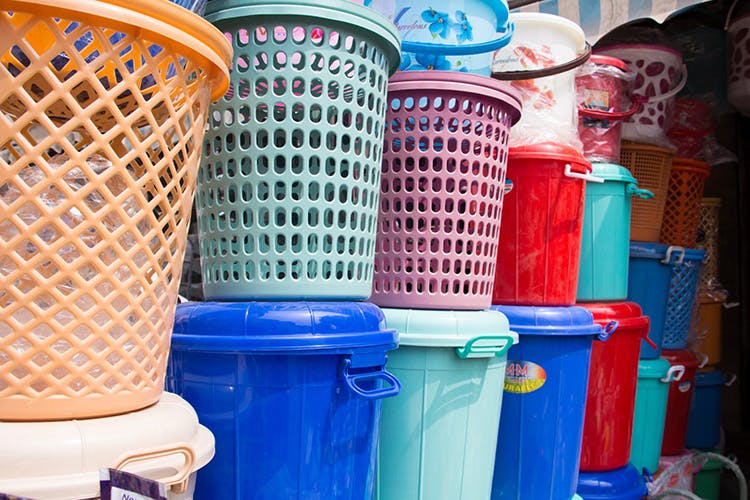 From Pickle Jars To Laundry Baskets: This Lane Near Comm Street Will Sort Out All Your Home Needs
Shortcut
New in the city or just looking for a great bargain on home essentials? Look no further than Shivajinagar's Old Market Area. You can grab everything from tea sets to pickle jars and steel utensils for throwaway prices.
What Makes It Awesome
Setting up a home, on a budget, is no easy task. Thankfully, you have us to lean on! The Jumma Masjid Road, in Shivajinagar, (the end that starts at Hotel Ashok and is diagonally opposite the Taj Hotel) is where you need to head to. The entire lane is dotted with shops, roadside stalls and carts selling a dizzying array of home essentials. Right next to Hotel Ashok, there's a lovely little masjid-like structure where you can pick up colourful mugs starting from just INR 50 per piece. If you are looking for very fashionable ceramics, then, many stores here sell pickle jars for as little as INR 60 for the pint-sized versions. Two doors down, from the masjid, and you'll encounter tall stacks of aluminium vessels of all sizes.
Walk a little further down and you'll find a row of shops specialising in steelware. You can pick up everything from spoons to plates, utensils, and even large storage vessels. Prefer the light-weight, plastic stuff? Then choose between containers, laundry baskets, buckets, and bins. There are also plenty of street vendors selling doormats and cotton, bed linen. You can buy each of these for a couple of hundreds. But do bargain to walk away with a steal.

What Could Be Better
This place is not for those of you who are are adamant on design and aesthetics but if you are keen on saving a few precious bucks, then, this is paradise. For that, hit up Commercial Street.

Pro-Tip
This place is a busy bazaar area so you won't have any luck with parking spots. Best is to park elsewhere and walk it up or simply hire an auto.
Comments