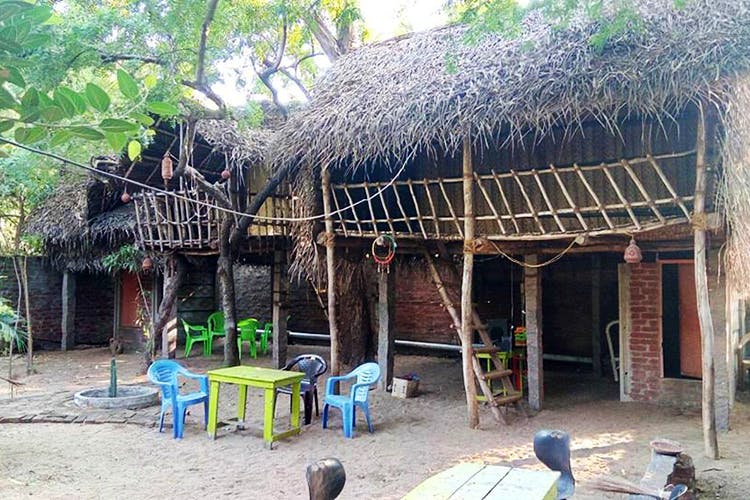 Tree Houses At The Beach For INR 600? Check Into The Koral Resort In Pondy, Pronto
Shortcut
Shack up at a tree house on the beach on your next trip to Pondicherry by checking into the Koral Resort for an outdoorsy vacay amongst sun, sand and sea.
Beach House
For a taste of easy living, the Koral Resort is where to head. With a fun outdoorsy stay and breezy beach vibes, get ready to live out your childhood dreams by shacking up in a tree house. The rooms at Koral Resort come with a view of the sandy beach and a tree house terrace to kick it back in. You should know that this is a very basic set up with zero frills. With no air-conditioning and communal bathrooms, this is far from luxe and is more suited for those who like to rough it out a bit. But basic amenities like free Wi-Fi and a complimentary breakfast are part of the package. And if you're in the mood to whip up a meal for yourself, take your culinary skills to their shared kitchen and get cooking. We should mention that the resort cannot accommodate kids and so it isn't the best place for a family vacation. With prices just as easy as the vibe here, they start at a reasonable INR 600 a night per person for the Budget Double Rooms and you can opt for a Basic Triple Room at INR 612 for one.
Whether you've come with a group or are riding solo, there's lots to see and do around the centrally located property. With the Hand Made Paper Factory, the Pondicherry Museum and the Botanical Garden all within a 5 km radius from the resort, fill your itinerary with as much activity and culture as you wish. You can also rent out bicycles from the place and wheel yourself around town while taking in the sights. What's more, the property is located on Serenity Beach and you know what that means. Bring your bathing suits, sunscreen and towels along for the trip and get ready to soak up the sun and splash around in the waves. Want to take a deeper dive? The resort will have a diving session sorted for you and the gang for an additional charge. So what're you waiting for? Escape the dreary city weather for some sunshine and beach waves instead and head down here for a taste of the good life.
#LBBTip
They only accept cash at this establishment, so your credit and debit cards are useless here.