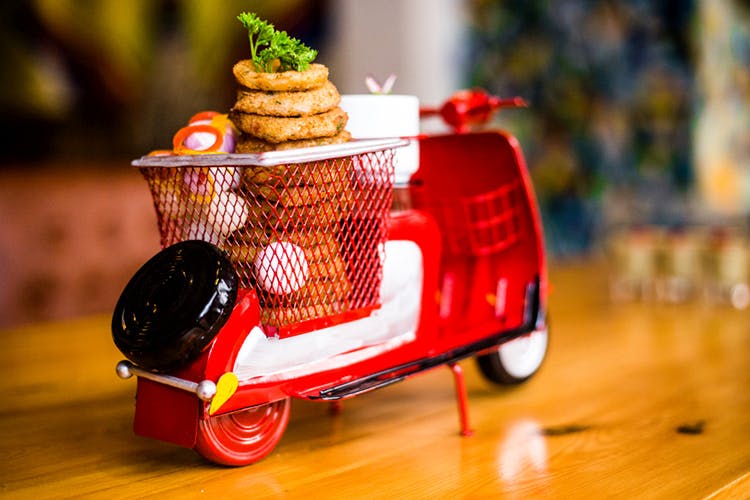 Get Your Bar Snacks Delivered In A Scooter & Drink 7 Kinds Of LIITs At Koramangala's First Trader Bar
Shortcut
Koramanagala's first trader bar is all about hip and quirky ambience, pub grub served in scooters and pans, and a perfect place to celebrate anytime during the week. Say hello to 52 Wall Street, your new friendly neighbourhood bar.
Chow Down
Onion Rings, Fish Fingers, Wall Street Buffalo Wings, Bread Bowl, Chimichurri Chicken Steak
Sip On
Mind Cooler, Red Island Iced Tea, Coney Island Iced Tea
Winning For
The fact that it's Koramangala's first trader's bar sits well with us because we don't need to brave traffic to reach Indiranagar's host of trader bars.
Lowdown On The Ambience
Unlike Chuggs, that once stood here, 52 Wall Street is gone all out with its colourful and funky decor that sits well with the millennials, the office folks, and the older crowd. Colourful murals on the wall that depict everything from the Manhattan skyline to a raging bull that looks very much like Hulk are all around the place. Interesting background calls for crazy selfie spree, right? Even the pillars have been done up to look like colourful drawers. Seating is in the form of bar stools, regular chairs, and super comfy sofas that could easily seat six people. Servers wearing monochrome uniform and suspenders add to the quirkiness of the place.
Trading Good Grub
What we love about the menu is its no-fuss, no-frills selection of American and Continental fare. The grub and drinks are perfect not just for a long night of drinking, eating, and making merry but also for those quiet weekday drink scenes. We started with some crunchy Onion Rings and Fish Fingers. Served in red scooters, these batter-fried yummers were an instant hit because they were non greasy and the presentation that begged an Instagram post. Loaded Nachos and Wall Street Buffalo Wings were next up in the grub list accompanied by Red Island Iced Tea and Mind Cooler cocktails. In between conversation, the crunchy nachos and the juicy saucy wings were consumed voraciously. Since we figured we are in for a long night, we settled for the Chimichurri Chicken Steak and the Bread Bowl with Paneer Tikka for mains. The bread bowl was easily the winner for the night. Paneer Tikka Masala served inside a carved loaf of bread reminded us of those French bread soup bowls. Ordering the steak was thankfully not a mistake — juicy and tender with sides of potato mash and grilled veggies.
Market High For Drinks
The drinks section has your regular selection of bottled beer and hard liquors along with a selection of classic cocktails such as Cosmos, Mai Tais, and the likes. Signature cocktails that caught our fancy were the OPP, an orange-pineapple-peach concoction with Smirnoff, and the GBC, a gin-basil-cucumber cocktail that looks like a perfect drink to unwind. Even the iced teas that we had, the Coney and Red Island, were the kind of drinks that you would definitely order if you are looking forward to a fun night. Even the shooters, perfect for those fun weekends, come in the form of Sweet Pan Shots, Kamikazes, in-house special the 52 Wall Street and the likes.
More Information
52 Wall Street
Wi-Fi Available

Nearest Metro Station: Trinity
Comments