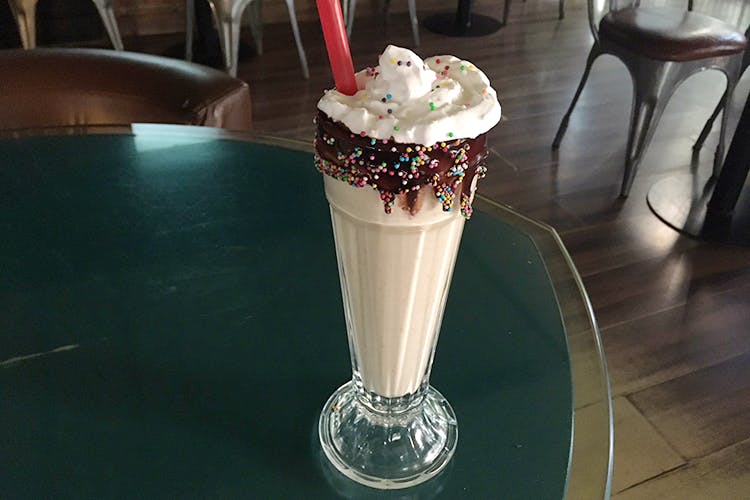 Nearest Metro Station:

Jayanagar
Riverdale-Style Milkshakes To Savoury Ice Cream: Turn Up The Quirk At This Jayanagar Cafe
Shortcut
Tucked into one of the lanes of Jayanagar's buzzing 4th block, Krazzy Folds is a cafe with a fun setup up and an ever quirkier menu with savoury ice creams.
Let's Go To Pop Tate's
After all the shopping we did at Jayanagar's Shopping Complex and Usupso, we needed to refuel, and like an oasis in the desert, we came across Krazzy Folds. With graffiti on the walls, which includes a portrait of Frida Kahlo and an inspirational quote or two, the cafe is easy to spot, even though it's located in a less happening part of the area. Climb up the stairs and walk into a swish space set up with exposed brick walls and dining booths. Lots of Pop Tates feels here, folks.
And to add to that theme, they've got quite the list of milkshakes and smoothies to sip on while you chow down on your burgers and sandwiches. We tried their Fig And Banana Milkshake, which came to us in a tall old-school milkshake glass, complete with whipped cream and funfetti on top. Although the fig and banana flavours weren't as recognisable as we'd hoped, this tall drink was like a delicious chocolate milkshake that Jughead would approve of. Pair your milkshake with the few unconventionally yummy options on the menu for a different cafe experience. Like their Cone Spice Cream, for instance, which is a savoury take on ice cream, with a crispy rice cone filled with veggies and a dollop of sour cream, which actually was quite delicious and not an abomination of our beloved dessert. Other unique bites include their Mac n Cheese Sandwich Shots which are mini grilled mac n cheese sandwiches served with a spicy sauce, and the Betel Leaf and Paneer, chunks of paneer wrapped in betel leaves and then batter-fried. How's that for a quirky menu?
Kick It Back
Coming back to the ambience of the place, the setting is laid-back, perfect for catching up with friends, casual first dates and solving the town's crimes if you really want to escalate on the place's overall Riverdale-esque setup. Plonk yourself on the couches and cushioned chairs, or hop onto their tall metal chairs beside a counter that overlooks the street. And don't forget to Instagram the huge brick moustache on their wall, that makes for whimsical wall art.
Prices are pocket-friendly, with a meal for two only setting you back by INR 800. Apart from the quirky menu offerings, they do serve up no-nonsense Mexican, Italian and Continental fare as well. No need to take the quirky route here if you don't want to, and tuck into some wholesome familiar eats instead. But do wash it all down with one of their delicious milkshakes which are the signature here.
Comments
Nearest Metro Station:

Jayanagar