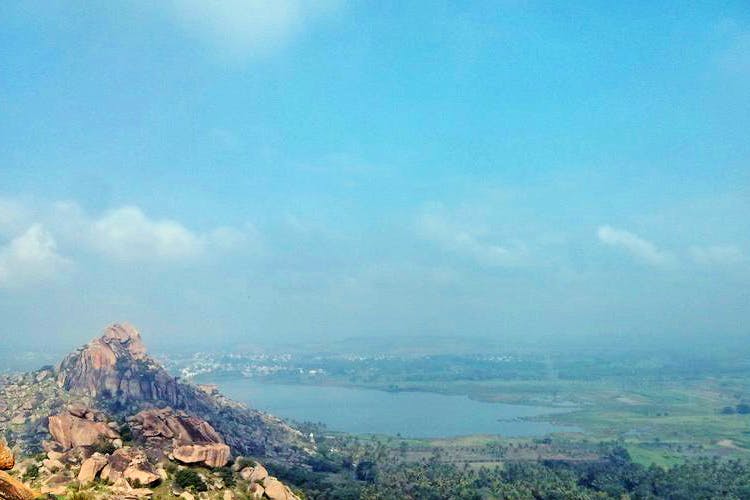 #WeekendGoals: Trek Up The Picturesque Kunti Betta Trails In South Karnataka
Shortcut
Your weekend plans of going outdoors can get an extra boost with the Kunti Betta trek. Oh, yes, this South Karnataka trekking trail has plenty to offer.
Mythological Connection
An overnight journey of 125 km from Bangalore is all you need to reach this picturesque trekking trail. As the name suggests, it is a namesake of Pandavas' mother Kunti, from the Mahabharata. Legend and locals believe that during the 14-year exile, she along with her five sons took shelter in the town what is now called Pandavpura. Well, string us a bow and call us Arjuna, that's a good enough reason to be all excited about the trip. Plus, see, thanks to us, you know a bit of history as well.
Picturesque Trail
The mythological connection of the place ends as soon as you reach the destination. Essentially, the Kunti Betta trekking trail consists of two rocky hills that are situated just under 3,000 feet above sea level. If you are doing a night trek, oh boy, you are in for a treat. And you'll have to experience the night trek to truly understand why it's the most popular night treks from Bangalore. The teases that we are, we'll just tell you that trekking under the stars and the moonlight lighting up the path is an experience that's truly out of this world. Staying for the morning part of the trek? Don't miss out on the early sun rising above the horizon with the sugarcane and rice fields as well as coconut trees that spread for miles at the foot of the hills slowly coming into view.
Up Your Instagram Game
Come on, what is a trek or a weekend getaway when you don't put up pictures of the same right? For starters, you could take pictures of the Croc-Face rock boulders. You don't need us telling you why the boulders have that name. You could climb up the rocks and see the paddy fields, coconut trees, and Kunti Kund. Speaking of Kunti Kund, it's a pit stop plus photo-op point. Basically, it's a lake that surrounds the foot of the hills. Thonnur Lake, which is roughly 10 km away from the trail is another place that you could hit up after your trek. Swimming and kayaking are activities that you can do here.
You can book organised treks to Kunti Betta here, here, and here.
Comments