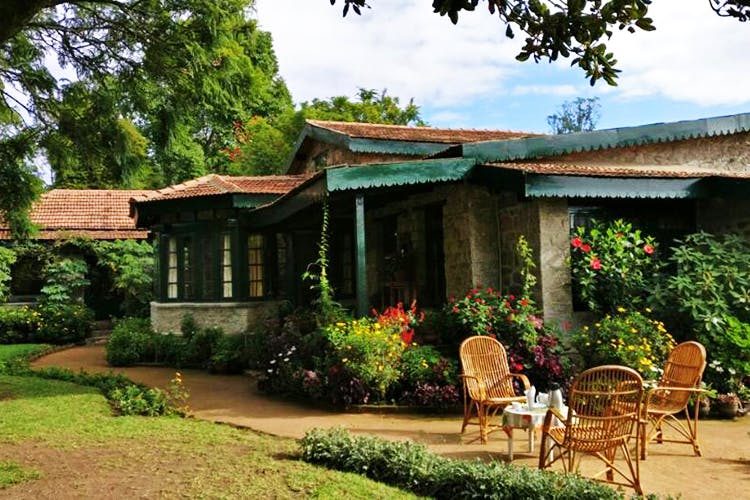 Kurinji Estate In Kodaikanal Is Your ideal Weekend Getaway With Views And A Comfortable Stay
Shortcut
From stunning views to a Thanjavur-style cottage and personalised staff at your beck and call — the Kurinji Estate makes the ideal getaway for an intimate party of two or a large group.
Garden State
A heritage 10-acre estate has recently opened its doors, on a private hilltop in Kodaikanal, and once through the double gates of this beautiful property, be prepared for stunning views. From rows of delicate flowers to untamed plants and statuesque trees, you will be tempted to  bundle up and spend your time outdoors to admire nature. From a tree deck to watching the sunset and little stone tables, the property also has it's very own trekking path that leads you to a lotus pond eventually.
Room For Two
A traditional stone cottage with a fusion of colonial and Indian architecture and decor accents, the four-bedroom space is managed by heritage property venture SaffronStays. Antique details are dotted around the property from a wooden bar counter to green double doors and a fireplace. Make sure to explore the game rooms and the many little trekking paths. Alternatively, pick a spot in their gardens for some good old-fashioned reading or bird watching.
Meal With A View
The cold weather and sumptuous meals are a match made in heaven. The on-site caretaker Natrajan and his wife Jacqueline, take your orders for meals in advance and prepare lots of delicious snacks in between to keep your tummy full and content. Feast on delicious chicken curry, rice, paratha, daal and sides to breakfasts laid out in the gardens, with a selection of cheesy masala omelettes, toast, parathas or dosas.
#LBBTip
Request for a bonfire night setup in advance. The campfire setting under the stars is a treat as you gather around the fire to eat, drink and make merry.
Comments