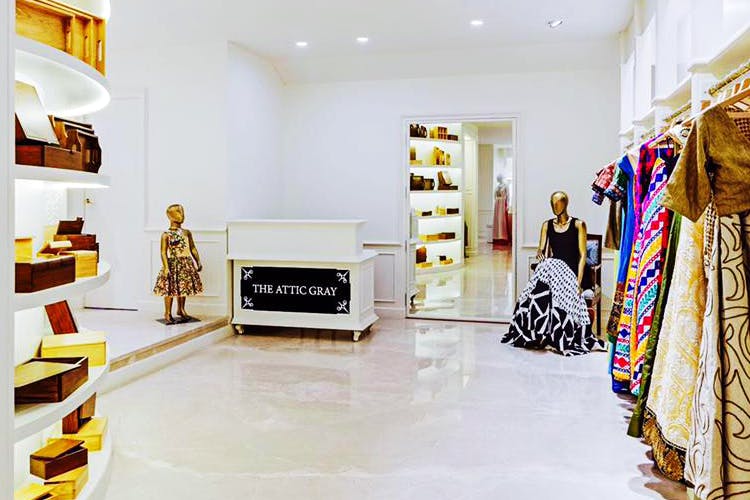 Bookmark These Tailors In Town For All Your Stitching and Customisation Needs
Have you noticed, that even women who love to overshare for the most part turn mum when you ask them about a good tailor? Good tailors who know can sew up magic and give you custom-fitted clothes that fit perfectly are a rarity and we don't blame you if you don't want to share your favourite Master's name. But we are not like that. We love to share and so, here, we give you a list of boutiques and neighbourhood tailors who do a stellar job of putting together salwar suits, blouses, dresses, and pants. You can thank us now!
Ajaz Ladies Tailor, Commercial Street
Recommended For: Blouses for every occasion – from simple cuts to ones with fancy bead, embroidery, and stonework (he'll whip out his iPad and show you all the designs you can choose from). Also, their gorgeously put together lehengas. We once spotted one with made with different kinds of lace and we couldn't take our eyes off it. You will have to get your own fabric. You can even source trinkets from the nearby Surya Emporium to jazz up your blouse. If there is an occasion that you need the blouse for, then make sure you give it to him at least 15 days ahead. And a couple of days before delivery, call him and let him know when you'll be dropping by so that you can get your blouse in time.
Chetan Tailors, Commercial Street
Recommended For: His uncanny ability to copy designs, you'll walk out with a designer blouse without shelling out a bomb. Bring your own fabric and they'll create a look that'll turn heads. If you ask them nicely and bring an easy enough design, they'll even stitch you a killer dress.
Arshvi by Shraddha, Commercial Street
Recommended For: Helmed by budding designer, Shraddha Sontakke, Arshvi is a stellar Commercial Street find. Those of you on the lookout for the perfect blouse can get a custom-made one here and they'll even embellish it with embroidery and stone work. Their lehengas are top notch as well. You can bring your design and they'll bring it or life or they'll even design the lehenga from scratch and source fabric for it.
Naina Boutique, Jayanagar
Recommended For: When you want to embrace the Bollywood diva in you, head here. Gorgeous lehengas, custom-made sarees, and salwar suits are on offer here. They also have a readymade line you can choose from. Naina Boutique also has a branch on Commercial Street.
Shoaib Tailors, Malleswaram
Recommended For: Located on Malleswaram's busy 8th Cross, this compact tailoring unit creates bespoke blouses. If you are looking for ethnic chic, you can choose jacket blouses that feature mirror work and ethnic embroidery. Going glamourous? Then, they make halter neck blouses and ones with sheer fabric. The store also sells readymade blouses.
Lovely Stitch Well, Commercial Street
Recommended For: Their budget-friendly stitching charges are sure to make your wallet happy. You can come here for your kurtas, salwar suits, and blouses. They don't provide material but all you have to do is scour the shops on Ebrahim Street before you come here.
Tiara by Roshini Shah, Koramangala
Recommended For: Launched in 2013, Tiara is helmed by Roshini Shah, who wants to transform the world into a more fashionable place, one stitch at a time. Their made-to-order range (they also have a readymade collection) includes everything from designer blouses to breezy dresses, tunics and lehengas. They make adorable creations for little girls too.
The Attic Gray, Koramangala
Reommended For: Brides, a jaw-dropping trousseau can be found here. For the rest of us, there are dresses with classic and out-of-the-box silhouettes, jumpsuits, summer dresses and skirts with bold prints. Prices are on the higher side so choose Attic Gray if you are in the mood for a splurge.
Kritique Boutique, Kalyan Nagar
Recommended For: They do both Indian and Western wear with equal aplomb. Their designs are modern and understated – nothing OTT here. hey do stock a limited range of fabrics at their store but it's best that you buy your own. If you are unsure of what will go best, you can ask and they'll be happy to share a few recommendations. Go in with an open mind. Kriti Uthappa, the owner, will give you a lot of great recommendations and builds on the designs you have in mind.
Lustre Studio, Frazer Town
Recommended for: Located on Saunders Road, Lustre Studio specialises in presenting traditional garments in contemporary light. Floor-length gowns, pant sarees, and lehengas with delicate work are all part of their repertoire. As are trendy salwar suits and chic dresses. However, prices begin at INR 10,000.
Needle Eye, Commercial Street
Recommened for: Over 10 years in the business, this boutique has gained immense popularity with brides and fashionistas. Swing by and their team of designers will create a look of scratch and even source the fabric for you. Their OTT blouses adorned with elegant floral flourishes and figurines are perfect for your big day. They also craft impeccably stylish gowns and lehengas.
LB Prakash, Commercial Street
Recommended for: A busy tailoring shop just off Commercial Street, LB Prakash is perfect for those of you who love fashion on a budget. They are favourite with generations of women and they create everything from blouses to lehengas and gowns. You will have to bring your own fabric here and they'll be happy to either recreate the design of your choice or will even create something for you.
Lavender Boutique, Kalyan Nagar
Recommended for: This legendary, Kalyan Nagar boutique will ensure you turn heads at the next big event. Their blouse designs, showcasing trendy cuts and designs, are a favourite with the crowd. They also craft gowns, lehengas, and salwar suits. They'll be happy to source fabric for you but you can bring your own too.
Comments