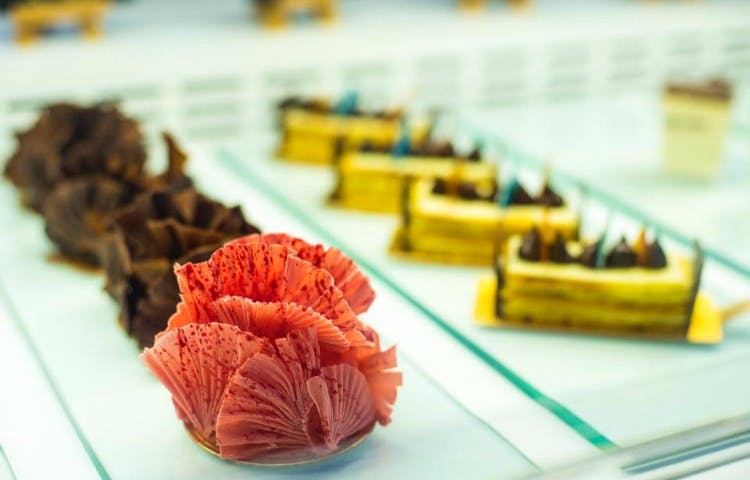 Gourmet Sandwiches, Classic Desserts and Great Cappuccino at Lazy Suzy
Eat
Chicken Quiche, Lazy Suzy Deli sandwich, Baked Yoghurt, Chewy Chocolate Cookie
Winning
Really good sandwiches (think gourmet), excellent and generous portioned coffee and easygoing ambience
What we ate
Start your meal here with  Lazy Suzy's Chicken Quiche – a perfect balance of egg, cheese, juicy chicken chunks, all held up just fine by a buttery crust. In fact, we liked it so much, we ordered another. But the day's stock of Chicken Quiche had finished and we settled for a vegetarian one which was equally good with shrooms and bell pepper dressed in a creamy sauce.
The Lazy Suzy Deli sandwich came packed with ham, pepperoni, cheese, chicken cold cuts, caramelised onions, and a pesto mayo, between chunky slices of corn bread. While the filling was lovely, thanks largely to the pesto mayo, and the caramelised onions, it was actually the moreish corn bread that brought this sandwich together with its slight crunchiness. Finish your meal here with the Baked Yoghurt, a slightly sweet affair that comes topped with a tart raspberry compote.
What we drank
Lazy Suzy makes a rather mean cappuccino. A strong brew, generously portioned and served in big cups, it is best had with soft-centered, chewy chocolatey cookies made at the cafe.
#LBBTip: Order yourself a cappuccino and lose yourself in a book or even work on your presentation on your laptop, the friendly staff here won't shoo you off for hours.
The DL on the ambience
What is not to love about a sweet little bungalow that is painted a cheery yellow with splashes of blue. And the best part, a tree grows right through the roof at Lazy Suzy. The decor is minimal, the inside seating looks into the pantry, while outside, a feel of an open air space has been created (albeit with glass).
So, we're thinking...
While we have raved about Lazy Suzy's breads here already, the loaves here are not cheap (a gluten-free loaf costs a whopping INR 280) and the desserts too are not easy on the pocket. But with ex-Oberoi chefs helming affairs here and bringing in their ace pastry skills with classic European desserts, we are not going to whine too much about the prices.
More Information
Lazy Suzy
Nearest Metro Station: Indiranagar
Comments