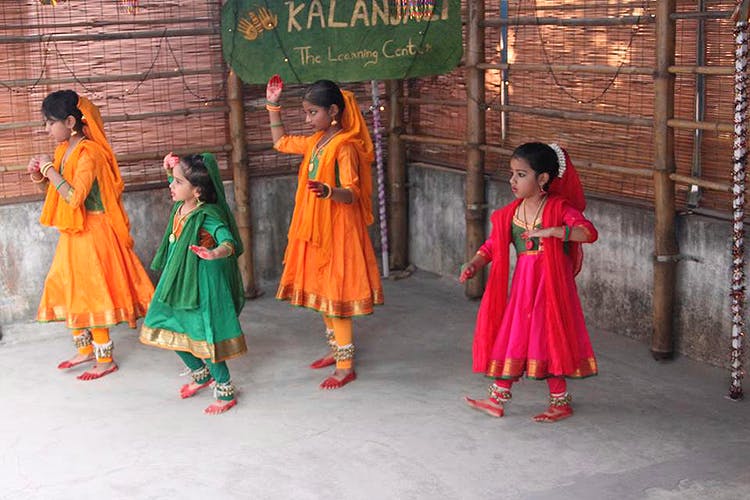 Nearest Metro Station:

Jayaprakash Nagar
Master Any Of 50 Arts Forms That Are Taught At This Cultural Centre
Shortcut
Learn a wide variety of art forms, both Indian and western at Kalanjali, The Learning Center. There are 10 forms of painting, instruments, dance, vocals and arts and crafts are just some of the things you can learn here.
Back To School
Classes are always a fun way to spend time, learn something new or build on a skill. If you're looking to tick 'learn something new' off your bucket list anytime soon, look no further than JP Nagar's Kalanjali – The Learning Centre. From mainstream things such as guitar, yoga and painting to rarer options like mridangam, Kathak, Madhubani painting classes, you can master any of these arts. Since it's been going strong for over 25 years, you don't need to worry about quality. They're on point. We're going to be rushing there soon to do some discovering and expressing. Also, a little birdie told us that continuous learning is the secret to stay young!
Spoilt For Choice
For the instrumental classes, there are both western and Indian options such as guitar, djembe, tabla, harmonium, flute, sitar, veena, violin, mridangam, keyboard and music theory. If you've always wanted to exercise your vocal chords and sing at social gatherings, take one of their vocal classes which include Carnatic or Hindustani vocal, shloka, sugam sangeet or bhava geete. You could also learn two popular Indian dance forms – Kathak and Bharatnatyam. If you're more about the aesthetic than the tunes, the options for art and craft classes are going to excite you! We're not the most artistic, but their range of painting classes got us all pumped. Apart from the usuals, they offer Madhubani and Jardozi sessions too. Plus, one that teaches you how to paint with coffee! Yup, coffee! They also host calligraphy, designing on various materials, Origami, Rangoli, clay modelling, pottery and candle making are just some of the options you have here.  A lot of the classes are also certified so be sure to pick them if you'd like to list the skill on your resume, or maybe if you just enjoy taking exams. The have classes scheduled through the day, mostly from Tuesday to Saturday, so it's convenient to take a one hour class few days a week after school or working timings. We're excited to learn something new at Kalanjali, are you?
Comments
Nearest Metro Station:

Jayaprakash Nagar