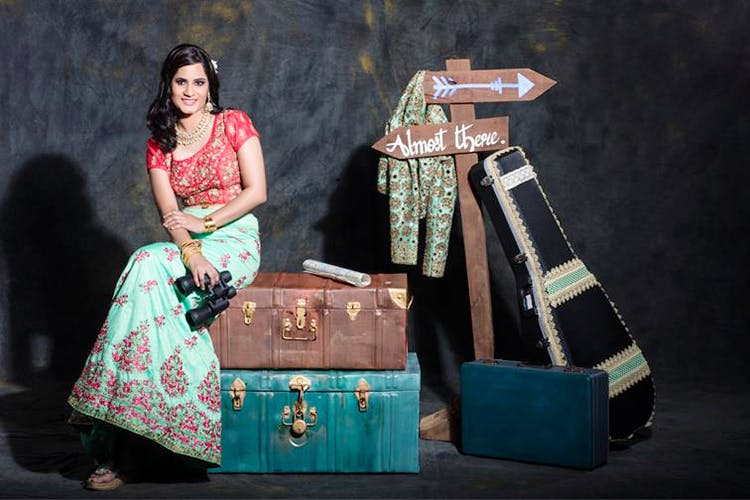 We Tried Lehenga Shopping In Comm Street For Under INR 5,000. Did We Conquer?
Well, well, well, it's that time of year again, when you can freely empty your wallets, and not feel too guilty. Why? It's wedding season people and you can't be left behind. But this time around, we're going to be your true BFF. No, we're not going to say don't shop. NEVER. But we're setting a budget of INR 5,000 (under INR 5,000 actually) so you can look like a princess without spending like one. From mix and match skirts and crop tops, to flouncy lehenga sets, go on, be the belle of every wedding function this season here are the best places in Commercial Street to buy lehengas.
Moksh
If you are looking to mix and match, and not really go with a traditional lehenga style, then you will find plenty of options at this two-floored albeit tiny store located on Kamaraj Road. You can buy lehenga skirts separately and pair them with an array of cholis (actually fun crop tops) that come in a selection of jewel tones. Didn't find your size? Not to worry. Designer Asha Motwani, who runs the store will customise it according to your size and desire.
Whether you want to keep it simple with their silk lehengas in solid colours like magentas, yellows or maroons, or go slightly Bollywood with flouncy zardosi and brocade versions. All lehengas here come with a stiff net-like lining that gives the skirts a flouncy feel. The crop tops come with embroidery around the neck, and interesting back details and buttons and most are sleeveless, but you can get sleeves stitched on these too. Downstairs, you can find traditional and modern style ready-to-wear saree blouses.
Price: INR 4,000 upwards depending on the type
Badsha Stores - The Silk Experience
The best thing about the store is that they have a lehenga suited to your budget. We asked for a selection that would come between INR 3,500 to INR 4,000 and we were shown a range of intricately embroidered lehengas that can be worn for festivals and even shaadis. We spotted a stunning peach silk one with embroidered aquamarine blue flowers. If you can't decide on a lehenga yet, then do have a look at Badsha's range of stunning cholis (goes up to a size 42).
These readymade blouses come in plush fabrics like silk and velvet and come with really delicate gold zardozi work and some interesting back details. You can find full sleeves, quarter or short sleeves too. Though the blouses are steep (anywhere between INR 2,500 and above), these are investment pieces and can work with any plain saree or even a solid toned lehenga.
Price: INR 3,500 upwards
Mannat
This two-floored store in Commercial Street is quite popular and you can select from heavy duty embroidered lehengas here to simpler elegant versions too. Bollywood is the inspiration here and you will find, a lot of inspiration in their designs from Bollywood cinema and those who design for Bollywood.
This one is definitely for those looking for a dressy option. Apart from lehengas, we found some lovely crepe and cotton silk sarees in pastel shades and embroidered with pearl and silver sequin work. There is also a rack with unstitched salwar kameez sets in pretty pastel silks with palazzo style bottoms, and light brocade patterns and tassel details.
Price: INR 3,000 upwards
Wow - World Of Women
Don't be scared by the dramatic and grandly dressed mannequins at the storefront. Sure, most of their collection is heavy and best for a wedding, but set a budget, say INR 5,000, and voila! They'll pull out quite a few outfits that are subtle, keep the shimmer and shine under control, and will work for a Diwali party quite well. Most of them are lehenga sets in pastel shades, but if you're bold enough, pick their contrasting sets — blue tops and red lehenga skirts or yellow blouse and red bandhini skirts.
Price: INR 2,700 upwards
Mysore Saree Udyog
If you're looking for something really festive, but budget too, try Mysore Saree Udyog. The collection of Bandhej lehengas will work really well for any festival. In bright colours like red, green, orange and pink, you'll stand out but it won't be OTT at all. They also have a few chiffon, velvet and raw silk numbers which are high on class and low on bling. And the best part? Prices start at INR 2,500.
Price: INR 2,500 for lehenga sets, INR 800 upwards for blouses and INR 1,000 for material and skirts.
Koskii
Want to look straight out of a Yash Raj film? Head on over to Koskii for all sorts of special occasions. They've got grand lehengas with heavy hand or machine embroidery work on them, but those are for brides and her party. For friends of the bride, check out their blouses and skirts that can be bought separately.
From classic choli-style and crop tops to the halter neck and corset designs, you'll get them all here. All you need to do is pick a skirt (from the flouncy chiffon to the more solid silk) and mix and match. If you're picky, then they even customise embroidery at their studio, so unleash your inner designer on them.
Price: INR 4,500 upwards for lehengas; INR 1,500 upwards for cholis and crop tops.
Comments