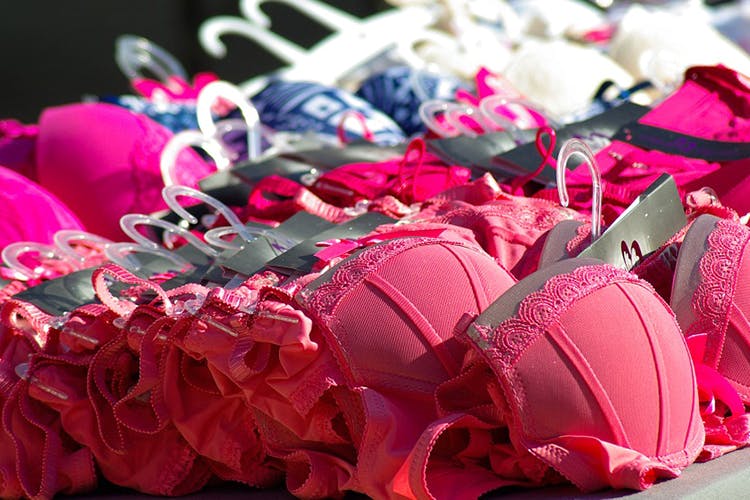 We Went Lingerie Shopping On Commercial Street And Here's What We Found
Ladies love Commercial Street for a good reason! Whatever a girl needs in her wardrobe, Commercial Street has. From cute bags to sparkly lehengas, enchanting fabrics sourced from around the world, the coolest shoes, and, of course, lingerie for every mood. On a shopping trip, we found bras, knickers and whatnot in racy, lacy styles, in chirpy and cheerful colours, and classic, comfy cuts. Here's the lowdown:
Enchantic
Recommended for: Over 20 years old, this is a Commercial Street legend! For all you ladies who love to fill their underwear drawer with colourful and playful designs this is just the store for you. While they are not big on brands, you can pick up neon-hued bras with full coverage or deep-red, lacey negligees that'll get you in the mood for a grand seduction. Satin night gowns, monokinis, and shapewear are also part of their collections. It's a fine spot to get naughty presents for the bride to be too!
Ecstasy
Recommended for: Tucked away on Narayana Pillai Street, Ecstasy sure is popular with the ladies. They stock everything from bralettes to lacy panties from brands like Brag, Enamor, and Jockey. Their bra collection is quite expansive and you can choose from simple, cotton ones that are adorned with stripes or polka dots or go all the way with satin and lace. You can pick up delicate camisoles and athleisure wear too!
Apsara Fashions
Recommended for: Honeymooners and sexy foxes swing by this breezy store on Commercial Street. We especially heart their collection of baby doll styles and teddies. These range from breezy (available in serene, sea greens) to downright sultry. The quality is pretty high so expect to spend a few precious bucks here.
Rajsons
Recommended for: Want to keep it simple? Then, stop by Rajsons on Commercial Street. You'll get your simple cottons in plain old blacks, beiges, and whites. These are a great pick if you like to go easy while at home or don't like overly padded underwear while out and about. They have the frilly variety too but they are mostly sourced from local brands. Prices are pretty pocket-friendly.
Brightways
Recommended for: A busy shop on Ebrahim Sahib Street, Brightways caters to both men and women. This shop is strictly for those of you who swear by the 'cheap and cheerful' mantra. The fanciest brand they have here is Jockey so this is best suited for daily wear. You can source cotton panties in a variety of colours and basic bras too. Comfy nightwear is an option as well.
Street Shopping
Recommended for: If you are on a shoestring budget, you can rely on the street stalls of Commercial Street to help you out. At many corners, especially on the far end of Ebrahim Sahib Street, you'll spot plenty of small shops hawking export surplus options. They usually only stock bras and slips. And we recommend you concentrate on the bras available in a variety of sizes and prints. Take your time in picking the best and then take them home for a bargain.
Westside
OK, we're segwaying a bit to the other side of the street, but Westside really does have a host of options. Wunderlove, their own in-house brand, is quite the competitor for other brands, and the prices are rather affordable with t-shirt bra sets costing about INR 1,399. Camisoles, briefs, sports bras and boy shorts are all available here.
Comments