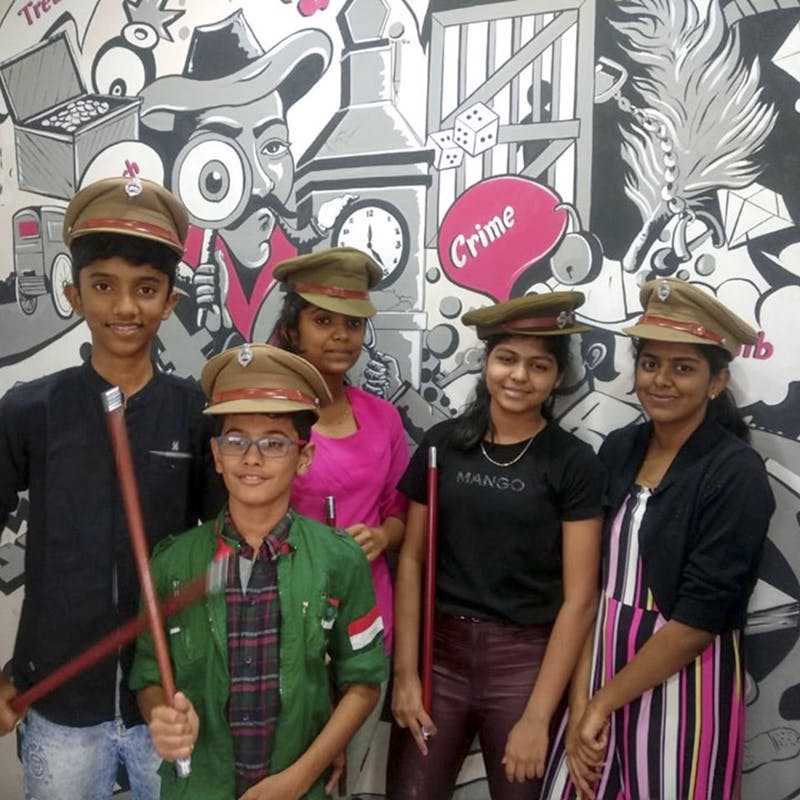 Channel Your Inner Sherlock Holmes And Solve Mysteries At These Escape Rooms In Town
Tired of waiting in line for a drink? Or want to escape loud techno music? Take the squad and head to one of these escape rooms across the city and enjoy some challenging games in a race against time. With five of our favourite mystery rooms across Bangalore on here, go on, be Sherlock. Be it a murder mystery, a bomb defusal mission, or a race against time deep under the Egyptian tombs, there is something for all sorts. Choose your team wisely or get locked in forever!
Mystery Rooms – Indiranagar
With varying degrees of difficulty, this one has six scenarios to choose from. They have the Hurt Locker, which is a race against time to kill a live bomb. Lockout is an all-out prison break while Abduction needs you to solve a kidnapping (and this one is a toughie). If you're looking for a good old murder mystery, Cabin In The Woods is just the one, which is apparently very difficult. It requires 4-8 players so make a larger group for this one! Con of Kohinoor – A Mission Impossible is sure to satiate all Don wannabes, this one's not for children under the age of 14. The games start at INR 600 per person and INR 800 on weekends.

Breakout Escape Room
This chain of escape rooms has the very convenient option of two locations, one in Koramangala and the other in the Phoenix Market City. They each have seven set ups to choose from, including a unique one called the Enchanted Forest which is a 5-10 player game and is a relatively easy one to crack. It calls for the smartest and bravest of your crew to go into a forest, find a treasure and save a kingdom. The Bank Job is sure to leave you feeling like a member of Oceans 11, if you solve it! Calling all 007 aspirants, Classified is a spy mission set within a prison housing dangerous psychopath inmate. You've got 60 minutes to figure out how to stop the inmates from seeing their plan through. They also offer a prison breakout, a bank robbery a bomb defusal and a crown jewels heist.
The Amazing Escape Rooms – Indiranagar
With eight rooms to choose from, they have the usual prison breakout, bank robbery and the bomb defusal games, but they also have the very challenging Illuminati, which requires you to prove that the Pope was murdered (not by you!) before the Swiss guards capture you. Do you like an element of horror and supernatural? Try Evil Lucy, she's been cast under a spell and it's up to you to reverse that in time. Tombs, pharaohs and the magical underground world sound fascinating to you? Give Escape the Tomb a try, it'll be 60 minutes of pure fun. These games are all 2-8 members each and are set to a 60-minute clock. The prices range from INR 599 per person on weekdays and go to Rs 949 on weekends.
#Pro-Tip: This one is temporarily closed for renovation.
Riddle Room – Koramangala & Sarjapur
Operation Chimera is for those chemistry loving geeks. You've got to crack a formula before the brutality of Dr Hanz' revenge operation, is let loose on the innocent citizens of Romania. Too complex a game for a chilled-out Saturday night? Worry not, try The Lost Capstone of Rameses where you navigate through a tomb to get each of the pieces of the prism before time runs out. You can also choose from Serial Killer's Lair where you have 45 minutes to escape before Sly takes his revenge on you. The Heist is interesting because you need to prove to the super conman that you're worth his trust. In order to do so you need to retrieve a prized sceptre from an eccentric art collector and pet enemy of The Cloak and deliver it to him in 45 minutes. Go on, give it a try!

Dare 2 Escape – AESC Layout (Marthahalli)
Dazzling Diamond Treasure is a 60 minute game set to find a diamond treasure gone missing. It requires your team to get into the prime suspect's personal space and raid it to find the treasure, all this before the bomb goes off. Looking for something darker and dustier? Pick Abduction in Go-Down. It is all about getting your friends out in the nick of time. They've been abducted in a go-down and you are their only hope to get out of there alive and in one piece. RUN. Breaking out of prison is no mean task. The Scofield brothers have proven that repeatedly, they also proved that it's not impossible. So, get your heads together and figure out the clues and tips left around for you and your team to make a clean break in the most quiet hour of the prison 3-4am!
Comments