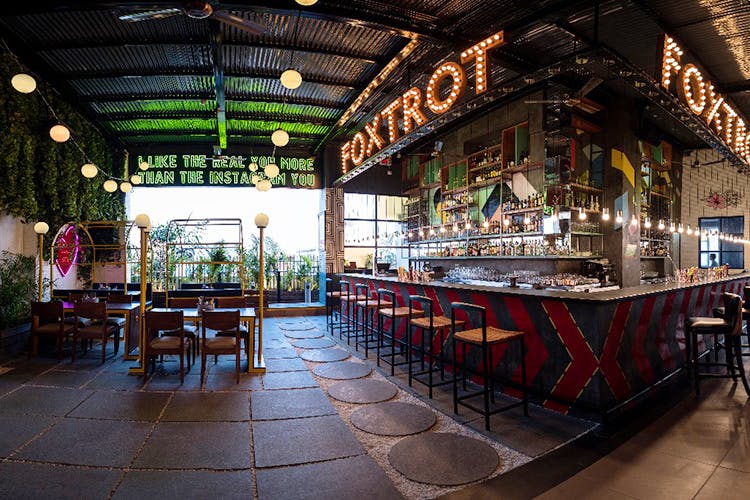 If It's Music, It's Got To be Live: Our Pick Of Gig Venues In Town
Love music? Like it even more if it is live? We've curated a list of places you simply must go to, if watching a gig is what you call a good night out. Whatever genre it may be – from rock to jazz (not EDM, for now, though), you're sure to find a live act at one of these venues. Perhaps it'll be an acclaimed band, an almost-famous one or even a future Grammy-winning outfit on their debut night, these live music venues and places will hook you up with beats, riffs and solos, all played-a-live.
Hard Rock Café
Hard Rock Cafe needs no introduction. The high stage along with the rocker ambience is an iconic pilgrimage for most Bangaloreans and others alike. The old, stone building mixed with the rock memorabilia all over the walls and the guitars hung makes for a great atmosphere to enjoy the gigs in. Gorge on the legendary all American burgers and a glass of beer and call it perfection!
The bFlat Bar
More of a launchpad for young bands, this old-school stage is great to catch upcoming artistes. Don't get us wrong, it's not always amateur night (though they too seem pretty pro to us). Chronic Blues Circus, White Mug, Thermal And A Quarter and The Amsterdamns (indeed, from The Netherlands and Romania), have graced the stage, and you'll love the way the acoustics make sure no one, even in a dark corner, is left out. Food from the above Been There Done That makes it a win-win situation.
The Humming Tree
Possibly one of the best and most popular gig venues in town right now, The Humming Tree has hosted and hosts artists, local and international playing all sorts of genres. From Thermal And A Quarter and Blackstratblues to metal giants Nitro and even EDM gigs including Dualist Inquiry and BLOT having performed here, there's a gig or an event happening every day. You could even come here for an open mic night and show off your skill! Enjoy the music with a selection of food and drinks from their stacked menu.
Indigo XP
From local to international and so much more, Indigo XP, is another place that's going to have an event every day. Having hosted Mad Orange Fireworks, The F16s, and many other local and National talent, they keep it fresh and happening. Of course, if it's a party you seek, they have a super popular Karaoke Night so you feel like a rock star too! Pair that with their eclectic food and beverage menu, and call it a party.
Windmills
The acoustics here are an absolute dream and you'll find a slightly more niche crowd here, drawn by the equally niche music that the place is known for. The microbrewery-cum-performance venue usually hosts to jazz and fringe artists. Think The Flat Cats, Blackstrat Blues and the Dutch outfit Wired Paradise. The Raghu Dixit Project, Lucky Ali and Bombay Jayshree are other names who are regulars here. Perfect to get into the mellow mood of jazz and sip on fine craft beer to complete the perfect experience.
Pebble
Touted to be the first, and perhaps only, outdoor venue, Pebble has long been the home of eclectic and underground artistes from far and near. You can expect everything from Diana King (oh yes, indeed), the Twisted Metal fest, Grey Matter, and even the likes of Distortion Culture. For the uninitiated, that means music ranging from reggae, hard rock, metal, progressive as well as experimental rock awaits you. Oh and also Apache Indian and Infected Mushroom (live DJs count, no?).
Social
Possibly Bangalore's favourite hangout spot, Social is a treasure for music, food, drinks and a good time. There's a lot of EDM gigs here, a lot of events and a lot of other artists that come here as well. When not hosting an EDM act, they also host intimate unplugged sessions. Our favourite venue is Koramangala Social followed the OG Church Street Social.
The Blue Room
Relatively new, The Blue Room has so far hosted SoFar gigs, House Music concerts, and live and acoustic sessions. All the proceeds from these events go back to the musicians themselves, so if you ever decide to swing by for a concert, be sure to leave something in their donation box. The space also focuses on bringing to the people a variety of music including Carnatic, Hindustani and Jazz music as well.
Foxtrot- House Of Subculture
DJs, upcoming talents, and established artists all come to the melting pot of subculture in Koramangala. Foxtrot channels that underground vibe effortlessly and weekends are packed with woke millennials and enthu-cutlets grooving to anything from house to contemporary tracks.

Comments