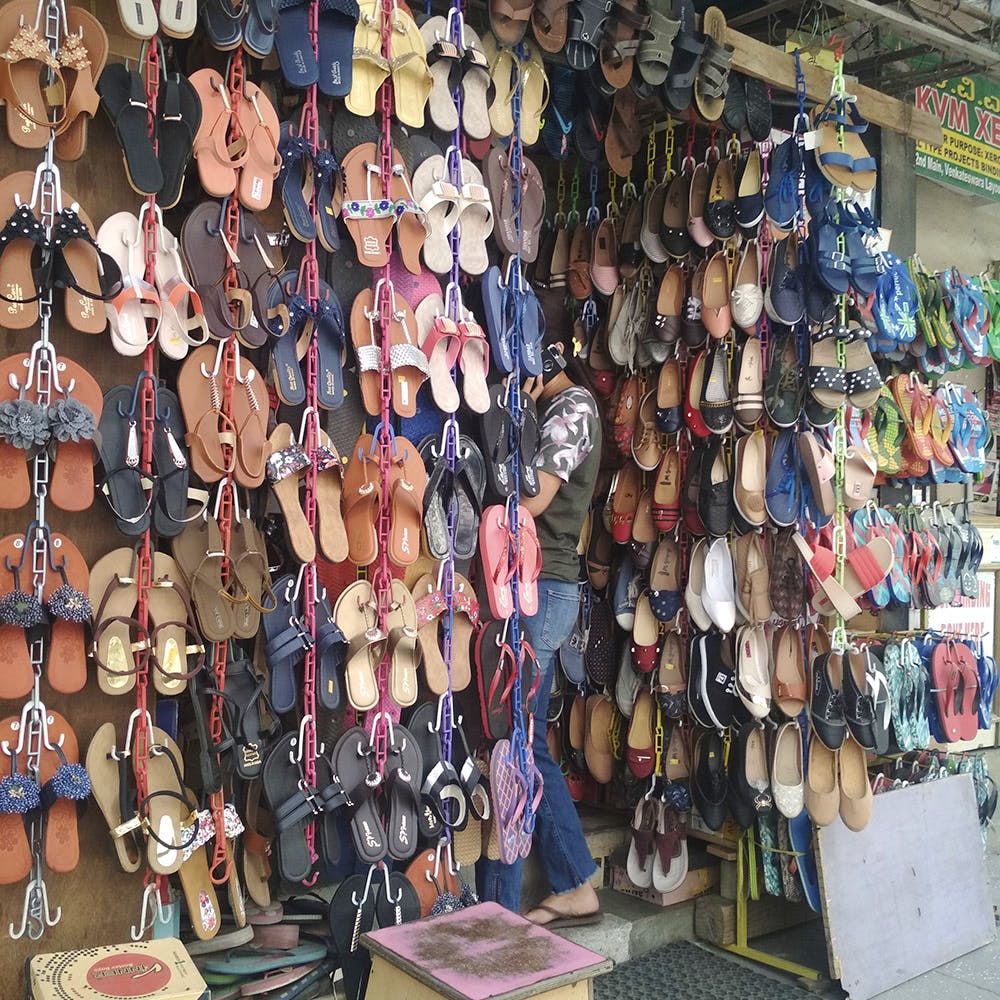 Living On A Budget In SG Palya? That's A Whole Street You Can Shop At!
Need to shop on a college student's budget? Well, if you happen to live anywhere around the Christ College area, there are actually a host of options that are like diamonds in the rough for shopaholics. Here's our pick of places in SG Palya where you can shop your hearts out, and that too on a budget! From apparel and footwear to cute accessories and gift items, we've got you covered.

Elegance
With their quirky head scarves, funky jewellery, watches and trendy apparel and bags, the Elegance store will make your inner fashionista super happy, that too without burning a hole in your pocket. You can also find cutesy gifting options at the store. Like mini keepsakes to spruce up your PG or hostel room, or cute friendship day gifts. Located right beside the store, is a juice bar for you to refuel and re-calibrate during your long shopping trip.
Price: INR 50 upwards.
Stylo Footwear
Stylo footwear store will become a go for your shoe-pping needs to if you live in or around SG Palya. They have everything from essential flats to fancy sandals and have an especially good collection of Kolhapuris in affordable prices, for you to spice up your shoe collection on a budget. While we can't guarantee they'll last longer than your time in college, they'll definitely have you (and your feet) covered through it!
Price: INR 150 upwards
Camila Churidhar Boutique
Need new everyday kurtis for college? or Want to amp up you ethnic wear collection? At Camila Churidhar Boutique, you can find everything from regular kurtis to heavy anarkalis. You can also pair up to make an Indo-Western outfit and shine at that next big function of yours. The best part you don't have to worry too much about over spending, as they're all comfortably under INR 800 for the most part.
Price: INR 280 upwards
Hanuman Fancy Store
Hanuman Fancy Store is an all purpose store for when you need anything from toys for kids to makeup and jewellery, at affordable prices. The store has a pretty good collection of gold accessories and heavy jewellery which you probably won't find that easily in SG Palya.
Price: INR 40 upwards.
Two Hearts Fashion Store
Almost hiding down the road in SG Palya is this fashion store, Two Hearts. They have a collection of the newest styles for women, from flouncy ruffle tops, to athleisure tracks to wear out. Other offerings include blingy earrings, belts and keychains to everyday essentials. They have everything a girl could shop for, especially if it's a last minute, or emergency situation (we mean of the fashion kind), and that too at affordable prices.
Price: INR 20 upwards

Trend Watch
Watches are, without a doubt everyone's favorite, and most useful accessory. Trend Watch is just the place where you can shop for watches without spending too much from your already light wallet. They also have a decent collection of belts and sunglasses. In case you want to get your watches repaired, they provide the service as well.
Price: INR 200 upwards
Women's Dreams
Women's Dreams is a go to when you want to shop or gift your bff something (like those middle of the night birthday presents when you surprise them with cake), while on a budget. They have everything, from bags and earrings to perfumes and keychains. All of these items are attractive yet budget friendly. They have a huge range of earrings, especially silver junk, to accessorise your dress coded everyday (college) ethnic ensembles.
Price: INR 200 upwards
Ask Bhavya a question