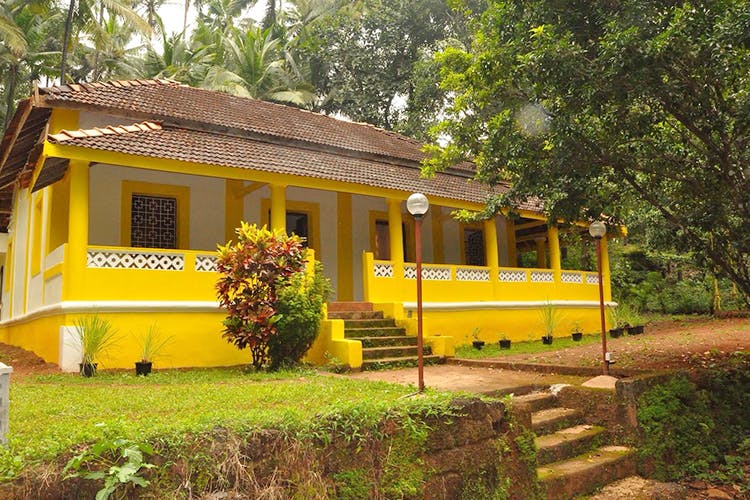 Away From The Noise And Into The Wild - This Goan Villa Is Getaway Goals
Shortcut
The Loliem Village House is surrounded by nature and tranquility. You can bring your family here and even your pet and come for a much-needed getaway, from the big, bad city life. Enjoy the silence and the greenery, and take a dip in the stream nearby!
Of Villas, Swings & Streams
Located 5km from the Polem beach, the Loliem Village House is a treasure locked amidst nature, for travellers who are looking to stay away from the beach scene and want to take in nature along with the waves and the sand. Locked on all sides with greenery, the house is a mix of the old and the new, with the newly renovated, modern bathrooms and kitchen spaces complementing the tiled roof, and the large open spaces in the house. The house is painted a cheery yellow, with a cool verandah out front and spacious on the inside.
Amidst all the greenery is a tree swing located right next to the house. A terraced garden and a stream that you can see from the verandah are a perfect setting. The interiors of the house are minimalist and wooden furniture is aplenty. The bathrooms are large and come with bathtubs that could take some determination to get out of, once you're in it. You could go for a dip in the stream nearby and wade around for a few hours in the cool water. Pets are also welcome here!
Tranquil Living
The house has two large bedrooms with attached bathrooms and another cottage adjacent to it with a double bedroom and a bathroom. All the rooms have four-poster beds and nets around them to keep the insects out. There is adequate storage in each room for you to keep your luggage in and all rooms are well lit. There is an attached kitchen for you to do your own cooking. You get all essentials needed including toiletries and linen and there is free WiFi as well. A night's stay in the house costs INR 4,000 a night and there is also a laundry facility.
Things To Do
The Polem Beach is 5km away and can be accessed by car or bike, which you could rent nearby. The beach is secluded and sparsely populated, perfect for a quiet time. Since the house is located in tranquillity and away from nearby places, it is a little way off from restaurants, pubs and other attractions. You could go to Surya's beach cafe for a bite, known for their crabs and oyster and friendly staff. You could also go to the Cuba Bar and Restaurant and relax with a fantastic view of the water, comfy bean bags and grilled fish and seafood.
#LBBTip
This has to be a tantalising thought, that you are seriously considering. Agree? Make a booking quick, here.
Comments