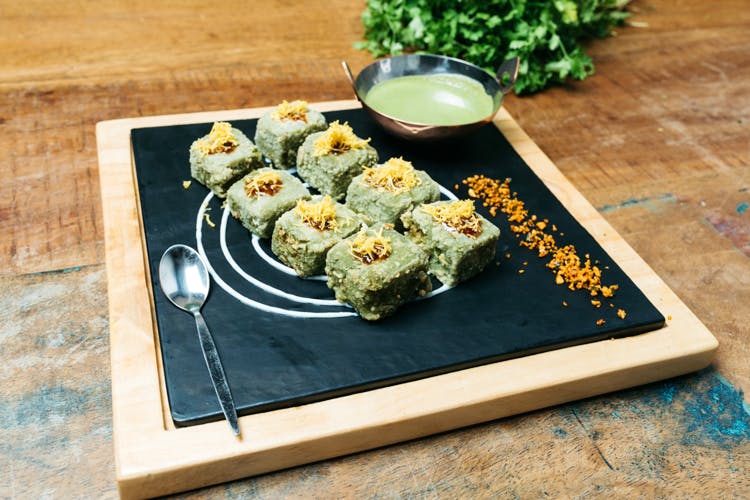 Shiv Sagar Has A Fine Dining Restaurant In The Heart Of The City. Yes, It's Vegetarian
Shortcut
Yet another restaurant jumping on to the fusion desi food bandwagon, Shiv Sagar does an upgrade with London Curry House — serving old-favourites with a twist. And of course, it's vegetarian.
What Makes It Awesome
Exposed red-brick walls, Victoria station clocks and London telephone booths set the tone. Wooden tables and steel chairs add to the casual vibe, go with the whole fam or squad to dig in to to some hearty and quirky vegetarian fare.
Repackaging old street food favourites, this place does well to retain flavours we associate with Shiv Sagar. We kicked off our culinary expedition with Corn On The Cob Chat – tangy and fulfilling. Next was the sinfully fried Babycorn Cigars with a wannabe salsa that lacked punch. The Water Chestnut & Corn Tikki was an interesting creation, served on a slate platter, with a bit of crunch. We couldn't stay away from Maggi, lead poisoning or not. Unadulterated in terms of original flavours, they'd loaded on carrots, broccoli and potatoes into the iron pot it came in, and as expected Masala Maggi won our hearts! Do give their Pindi Chole a try. Authentic, redolent with whole spices (including the otherwise elusive cinnamon and cardamom) and black (thanks to the Assam tea the channa was cooked with), we could eat this all day long with the soft kulcha it arrived with. They also have pizzas (Brazillian, Chinese or Indian versions) and steaks (paneer, mostly).
To sip, the Desi Vanaspati and Videshi Shooters caught our fancy. The former is a mix of cranberry juice, Coca Cola and crushed mint leaves, was a bit too sweet, while the Desi Vanaspati (with zero traces of Vanaspati, mercifully) was a muddle of orange juice, ginger and green chillies — spicy and refreshing! For dessert, we picked the Toffee Tart, mostly because we were slightly sceptical about the fusion desi-Western ones (Jalebi With Rabdi And Red Velvet Dust, anyone?). Served with ice cream, the Nutella tart was rich and ended the meal on a chocolatey high.
What Could Be Better
The space is basic and airy, but privacy is lost with so many of the tables and chairs so close together.

Pro-Tip
They have marked out Jain dishes so if you're avoiding onion and garlic too, just tell your wait staff and they'll happily oblige.

Also On The London Curry House - The Royale Senate
More Information
The London Curry House - The Royale Senate
Wi-Fi Available

Nearest Metro Station: Sampige Road
Comments