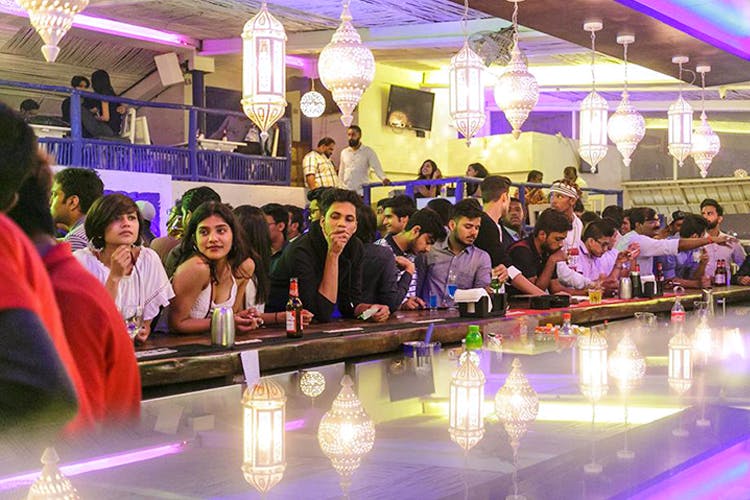 Nearest Metro Station:

Indiranagar
Terrace Bar, Cosy Cabanas And Karaoke Nights: Why This Party Spot Is The Place To Be
Shortcut
Love to party? Then chances are that you've definitely hit up the iconic Love Shack at Domlur. Whether it's singing your heart out or dancing the night away, it's always a good time here.
Shack Up
Why go to Goa to have a beach party, when you can have one right here in the city? Well, almost. While there is no beach, Love Shack has all the other ingredients to make for a swell time. Set on a rooftop, take the party to the top where you'll spot a terrace bar to get your drink on, cool cabanas to sit inside when you want to take a breather from all that dancing and, of course, a pulsating crowd of happy party people. With great music, good food and plenty of booze in the mix, you know you're going to have a great time with your gang.
Come Wednesday, and it's karaoke time. Make sure you've done a few vocal exercises before you grab the mic and belt out your favourite tunes. You'll receive a little help from the crowd, who will be merrily singing along with you. The karaoke waiting list is often too long and you might not get a chance to perform. But there's no love lost because you can perform every song and sing along with the folks around. Can't sing? Then take to the dance floor and show off your best moves. Or just chill in a cabana with the squad. 
Life's A Party
You can catch a few live music acts and performances here as well. Do follow their Facebook page here. Or you could chill out and catch a live match screening here too.
Most of the people who come here are regulars who drop in quite often. You'll also spot a whole bunch of college kids, as they do frequent the place as well. All those college assignments can get to you, so it's important to have a place like this to kick it back in. Don't be surprised if you spot many a familiar face here as everyone from your boss to your niece has been here a couple of times. So prepare yourself for awkward run-ins and a whale of a time. 
Comments
Nearest Metro Station:

Indiranagar