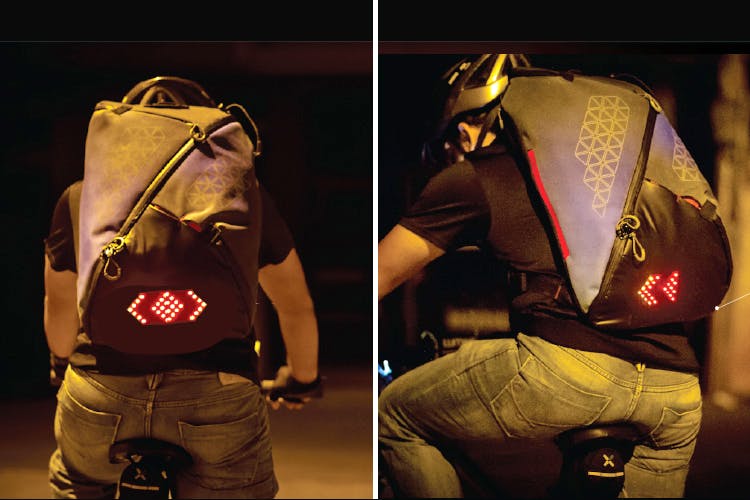 Nearest Metro Station:

Indiranagar
A Back Pack With Superpowers? Check Out Lumos
Shortcut
Bangalore-based Lumos makes cool utility solar bags made especially for bike riders and cyclists, and also helps prevents accidents. We'll tell you how.
Life-Changing Stuff
Lumos bags come with integrated rear lights, so when you're riding fast on a highway, vehicles behind you cannot miss you. When you brake, the brake lights on your bag will automatically turn on, just as they would on your bike. The straps on your bag also light up, so vehicles coming towards you on the other side of the road, will be aware. You can also lock your bike/bicycle and put an anti-theft alarm, for which you'll get a notification on your phone. All these twinkling lights make you that much safer on the road.
How It Works
The bag has a solar panel that recharges itself every time you're out, even if the sky is overcast. In case your battery dies, there's a back-up battery and charger in the bag that you can charge your bag with. You can also use the charger to charge your phone, music player or any other gadget you are carrying. The bag comes with a USB-rechargeable 4,000 mAh in-built battery and can light up 10-15 hours of your commute. You just need to configure the bag to an app that will put you in control of it, and you will be able to customise it the way you like it.
It's a weather-proof bag and it can pretty much fit your laptop, clothes, shoes, gadgets and books, and even your water and lunch. You can throw it around, smash it, do whatever you like, it won't crush. Plus, it's super light. If this doesn't make you feel like a semi-Jedi, we don't know what will.
Price: INR 4,500 upwards
Check out their website here to shop online.
Comments
Nearest Metro Station:

Indiranagar