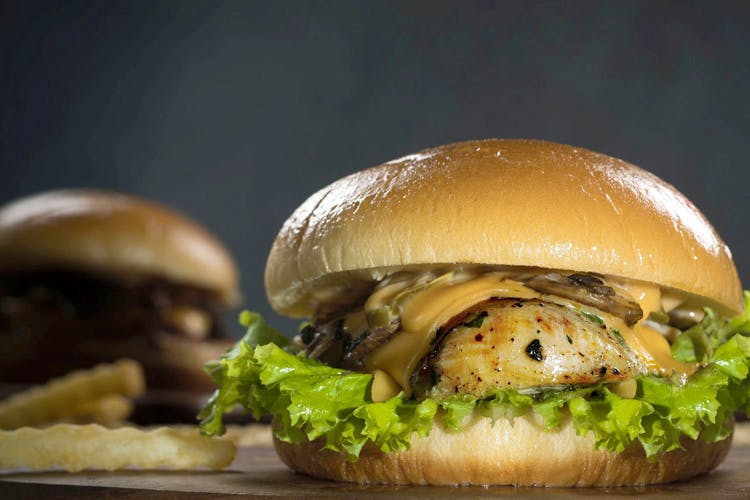 Make way for Bangalore's best gourmet burgers! Brought to you by Burger Seigneur at Indira Nagar.
Concept
Bangalore finally has an epic burger haven in its vicinity, and we couldn't be any more excited! We've found you the perfect burger place (yes it exists!) – Burger Seigneur at Indiranagar, the newly launched flagship concept. Which promises to serve varied burgers, you've never had before. It offers an unparalleled gourmet experience for consumers.
Burger Heaven
Burger Seigneur is full of the finest selection of burgers, keeping every taste bud in mind. They say, that chicken burgers are supposedly the best! But vegetarians are in for a pleasant surprise, as their veggie burgers are to die for (not literally!). And no, it's not just paneer or potato-based burgers. The cheese will lusciously melt in your mouth. Feeling hungry already, eh? Burger Seigneur's Dynamite burger is an epitome of perfection (well almost). Right from the soft, in-house bun, to the juicy lamb patty, it serves as a perfect meal for your busy day.

Their Jack the Ripper (chicken based) and Paris Delice (beef based) burgers will leave you spoilt for choice! No matter what you decide to order, you'll be sure to find your burger nirvana, in this pretty cafe!
Food for the Soul
It has been vividly established, that they have an amazing spread on their burger menu. However, a burger meal is incomplete without some cheesy fries and a thick shake, y'all! While their dynamite fries are mouth-watering, do not miss out on their succulent chicken cheese balls or the shrimps. Pair it with an Oreo or a Cookie n cream thick shake, and you'll have the perfect American Diner experience, right in Indira Nagar!

Wait, there's more. If you're a coffee lover? Then, you're in for a total treat! They have one of the finest Himalayan blends that ranges from a Zaffran Latte (one of the best), Cortado, cold brews, espresso & Esmerelda Latte (pistachio based). But, if you're wanting to end your meal with a toothsome desert? They've got an appetizing spread ranging from Skillet cookie (must try), crunchy baked yogurt (yep, you read that right), Choco lava cake and much more!
Awesome, how's the ambience?
Their vibe is chill. As soon as you enter, it will instantly soothe you. They have an outdoor & indoor section, both. But that's not their USP. They are pet friendly! It cannot get anymore dope. A sumptuous meal with your little one is all that you need.
So, we're saying...
If you're in Indira Nagar, this place is a must-visit. The ambience combined with an excellent selection of food and beverages is worth checking out! Head over now to immerse yourself in delicious food aka burger coma.
More Information
Burger Seigneur
Wi-Fi Available

Nearest Metro Station: Indiranagar
Ask Saloni a question