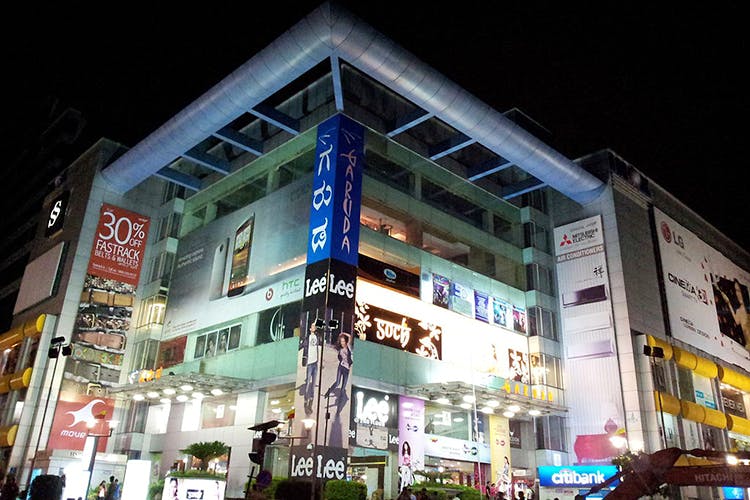 Too Rainy For Street Shopping? Hit Up These Malls For Your Retail Therapy Instead
If you're on MG Road and don't want to travel around too much, you can spend the entire day at a mall here. And the best part is there is not one, not two, but five malls in this area! Perfect to escape the rain, and still get in your dose of retails therapy. Beyond shopping though, there's dining, fast-fooding, entertainment and so much more to do in the malls . In fact mall-hopping in and around MG Road could be a weekend activity. We're counting it as fitness too now. So the next time you're around this area, be sure to check out these five malls.
Garuda Mall
Situated on Magrath Road opposite Home Centre, Garuda Mall has plenty of options for shopping, eating and entertaining, and for the longest time, was our go to place for a day out with our pals. Honestly, it still is! For clothing, you so much to choose from: Levi's, Fabindia, Vera Moda, La Senza, Forever 21 or Raymond, among others. You also have footwear brands from Nike, Soles, Call It Spring, Metro, William Penn for stationery, The Body Shop for beauty products and Accessorize and Chumbak for accessories (there are many more shops, go check it out on your own). For your post-shopping hunger pangs, there are outlets of Kobe Sizzlers, Jimis, Pend Balluchi, KFC, Burger King, Shiv Sagar, Gelato Italiano and a food court full of exciting options. While you're there, you could entertain yourself by watching a movie at the Inox theaters or try your hand at some bowling at Amoeba or, perhaps, go for a horror trip at Scary House. Either way, seems like a good mall to spend the day in. There's even a funky new restaurant on the top floor called Street Mama to chill out at. 
Central Mall
Central Mall, just off MG Road, was one of the first open plan malls and for a city like Bangalore, who loves their Commercial Street shopping, this was a plus. Why? You can seamlessly browse one shop and move to another without actually moving out of the store. Mainly catering to fashion and accessories from over 1000 brands, they often have exciting offers and discounts,  and it gets even more exciting over the weekends and during festive seasons. They have an entire floor dedicated to Home Town which sells home decor and furniture, and this branch even has sunglasses, perfumes and watches from the swanky houses of Prada, Gucci, Armani and Versace.
5th Avenue Mall
Touted to be Bangalore's first mall, 5th Avenue mall has a vintage-esque feeling to it with old roof and escalators all around. With fast food options such as Snow Gola, Anand Chaats, Frankie and Ice Cream Dream right at the entrance, fill up your tummy before you enter. The most famous outlet here is the Supermarket (yes, that is the name of the shop) where you get everything from perfumes, shampoos, conditioners, make up, imported food, and more or less anything you could think of. This is also where you can get your hand on all those Sourpunks, Ice Breakers and Twisties kind of delights. There is also a fancy fruit store opposite, Zaveri Bro for jewellery, Wise Guy for t-shirts and quite a few handicrafts and ethnic wear stores, wholesale shops and a salon for men and women.
UB City
Called India's first luxury mall, UB City is everything posh and classy (and expensive!), all under one roof. You could either go here to gawk atand how beautiful and neat it all is, or if your wallet can handle the pressure, maybe buy a few things at the high end stores like Louis Vuitton, Burberry, Paul Smith, L'Occitane and Canali. The open air food court is worth spending an entire sunday afternoon at, at places like Cafe Mangii (try the wood fired pizzas here), Caperberry for modern European dishes, Sanchez for Mexican delights, Fava for mediterranean food, Farzi Cafe for fusion Indian, Shiros for authentic Japanese, and many more. There's also a fancy art gallery called Sublime Galleria, if you're up for some art attack. We usually head here for Diesel and Emporia Armani. 
1MG Mall
1MG-Lido is one of our favourites for there is so much to do and each brand or shop has so much to offer in terms of variety and quality. Shopping enthusiasts can browse through Da Milano's luxe Italian leather accessories, the French chain, Promod's collection of womenswear and Marks & Spencer's trendy clothes, H&M for the basics lovers, MAC for those looking for quality make up and Nike for the sports peeps. Ample options for fine dining spots like Yauatcha (with a romantic terrace bar and space), Fort Kochi (fancy some Kerala delights), The Tao Terraces (Pan Asian cuisine in an elegant ambience and a solid party on weekends), Cafe Felix (for American, Continental and happening Friday nights). And, for classy home decor pieces and furnishings to jazz up your space, there's The Bombay Store and Pure Home + Living. If you've gone with kiddies or your buddies, head to Smaaash – a sports themed entertainment space with a lounge area and a bar. Also, be sure to check out the Foodhall on the topmost floor for some mind blowing grocery shopping.
Comments