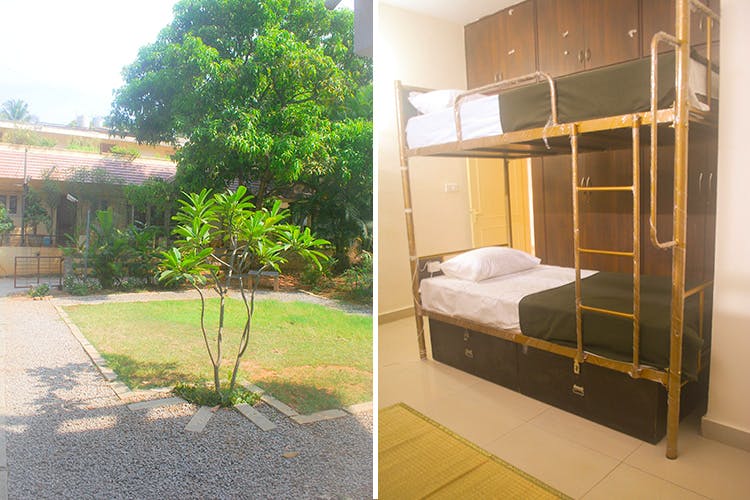 Friends Coming to Town? Put Them Up In This Cutesy Hostel With Mixed Dorms In Koramangala
Shortcut
A little pocket of sunshine and happiness in the bustling Koramangala neighbourhood, Mañana is a charming home turned hostel you can bunk at for cheap.
Hostel Life
Friends landing in town but you can't host them all at home? Set them up at Mañana, a cute Koramangala hostel that promises a comfortable community living experience. A relatively new set up, Mañana is an old-school home that functions as a hostel with big mixed dorms for up to eight people to stay in. Done up minimally with off-white walls and a cream and blue colour scheme, its got a small town vibe, which is so hard to find in the city, let alone in the buzzing Koramangala area. This means that this place is the best of both worlds, with a lazy vacationer mood but right in the middle of all the action and city hotspots.
Located in a quiet bylane, the hostel also has a beautiful garden that guests laze around in. Or you could plonk yourself in their outdoor seating area with some company or a good book.
Stay The Night
A great opportunity to make some new friends, you'll be bunking in dorms with six or eight people here. Yep! Time to expand those social circles. Although the set up isn't exactly posh, modern day comforts like free WiFi, clean bed linen, charging points and a washing machine are all provided. The bathrooms are also kept spic and span and come equipped with shower heads and bathtubs. Food's not on the house though. However, they've got a kitchen, with a fridge and microwave, so put on that apron and knock yourself out.
They got a games room to hit up whenever boredom strikes, or you could hit the town for a guaranteed good time. A night at Mañana will set you back by INR 875 per person which sounds fairly reasonable. But do make your payments in cash though, as they don't accept cards.
#LBBTip
Kids and pets are not welcome at this hostel and cannot be accommodated.
More Information
Manana
Nearest Metro Station: Trinity
Comments