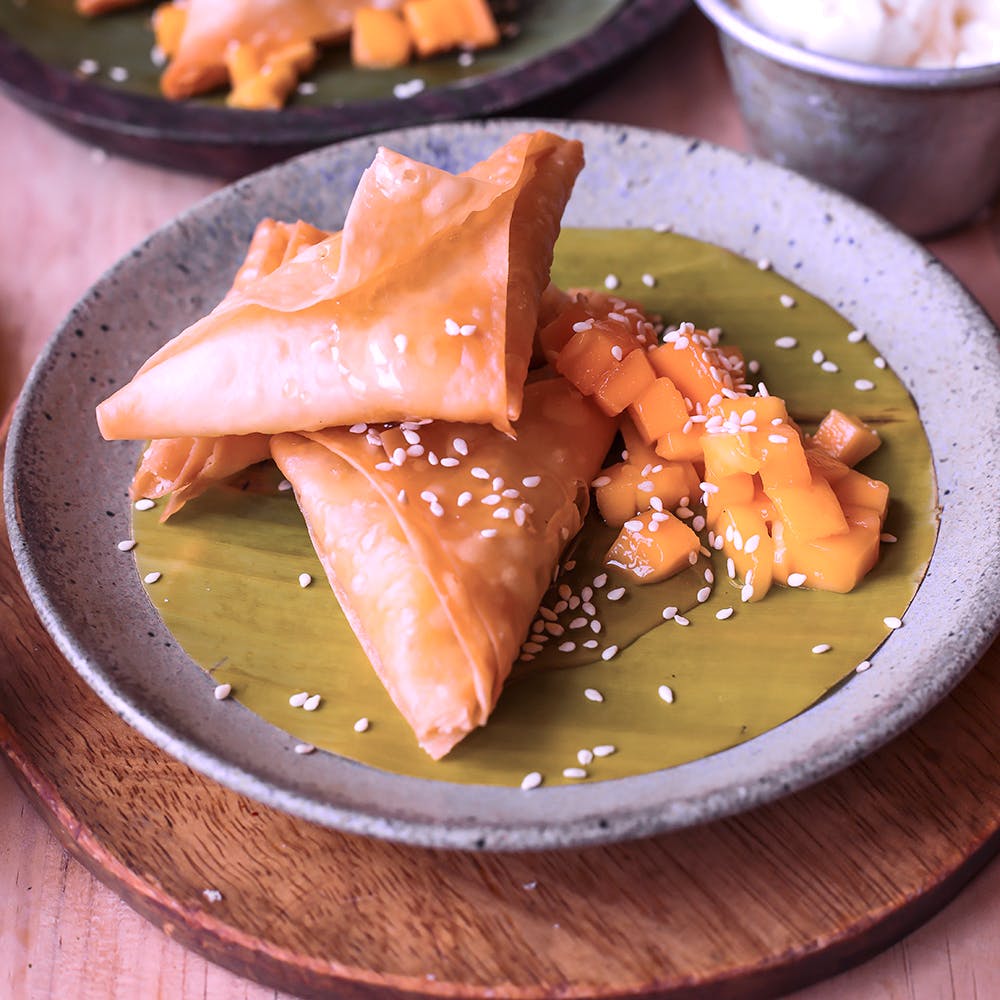 Mango Mania: Load Up On Dessert, Drinks And Salads Featuring The King Of Fruits
It's time for the King Of Fruits and that means restaurants, bars, and cafes in Bangalore are creating everything from drinks to dessert using the good old mango. Some are even going all out and introducing an entire mango menu, so without further ado here are some of the must-try mango dishes in Bangalore in 2019.

Monkey Bar
Trust Mo Bar to come up with a curated menu that includes small plates, drinks, and desserts. We are gunning for Nachos Mango that's topped off with ripe mango and bhut jolokia cream. Spicy and tangy! There's the Sweet Mango Pie that we know we are ordering at least two rounds since it's an almond tart filled with caramelised mango cooked with rum, topped with a vanilla and mango cream. We are not even going to talk about Mango Party Starter. Go try it! Pair all this with the quintessential cocktail Mangaa and you are good to go.

SodaBottleOpenerWala
With the mango season in full swing, head to SodaBottleOpenerWala to get your fill of Parsi-style delicacies. From flavoursome chicken curries like Keri Kanda Par Eedu (a mix of onions and raw mango with spices, topped with a baked egg and served with Pav) and Keri Chicken (our personal favourite), to their super-crunchy Raw Mango And Papaya Salad, your lunch scenes are pretty much sorted this season. While you're there, make sure to sip on their special mango cocktails (we recommend the Mango And Peach Sangria!). There are delicious desserts on offers too, like mango samosa, mawa sundae and mango cheesecake.

Misu
No need to troop all the way to Thailand for some sticky rice and mango. Just set GPS to Misu on St Marks Road, or Indiranagar, and order up this dessert. Made from sweet sticky rice, coconut milk and garnished with chunks of fresh mango, you may want to skip main in favour of two portions of this!

Smoor Chocolate Lounge
For summer, Smoor has these lovely mango cupcakes, mango macarons, mango truffles and the star special, the Alphonso Sundae -- that is, vanilla bean ice cream topped with fresh Alphonso mangoes -- a mango lover's dream come true! Prices start from INR 70 upwards, and they're available at all Smoor outlets.

Sanchez
Adding some tropical flavours to their authentic guacamole, Sanchez at UB City and Indiranagar is bringing some mango to your plate. Lo and behold, the Mango & Roasted Jalapeño Guacamole. Priced at INR 995, pair it with nachos, and knock back tequila and you're good to go!

The Permit Room
The Permit Room is celebrating the mango season until Sunday, May 19 with a special menu. You need to try the Mango Rasam, a traditional spicy broth made with mango pulp and topped off with mango chunks. Frutee, a solid cocktail with vodka, fresh mango, ginger and green chilli! Guaranteed good daze! Small bites in the form of Mango Nippat, mains such as Manga Curry, Meen Mango Curry, and Mango Sadam complete the menu. Don't forget to try the Mango Tres Leche Cake!
Rajdhani
Rajdhani is keeping it cool this summer by bringing back their massive Mango Thali that can feed a family of four. No, really this vegetarian thali has options that include Aam Dal Dhokli, Aam Khasta Kachori, Amchuri Gunda ki Sabzi, Aamras Boondi, Hapus Jalebi, Kacche Aam ki Launji, Kacchi Kairi Khichiya Chaat, and Kairi Masale Bhaat.
Ask Roshni a question