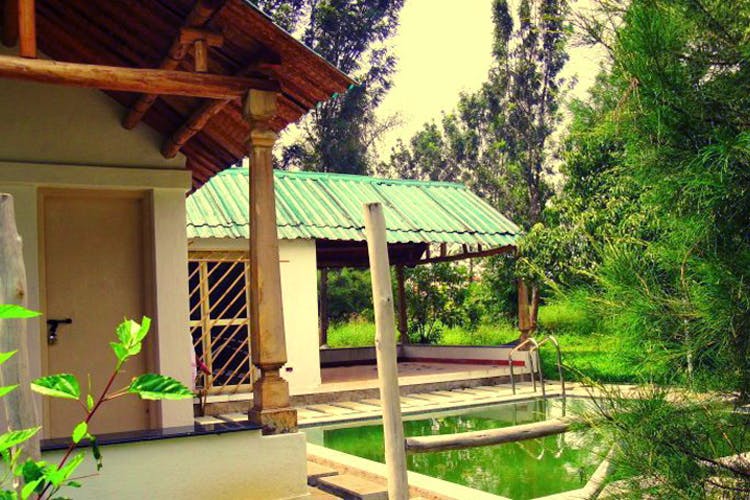 Camping, Zorbing, Swimming And Sipping On Cocktails: Do Something Offbeat At This Adventure Resort
Shortcut
For those of you who want to escape the city and also do something exciting without going far, Mango Mist will tick off relaxation, fun, adrenaline and rejuvenation.
What Makes It Awesome
Named to ring a bell with old Bangaloreans who'd have played in the mist under mango trees back in the day, this one is all about switching off the iPad/Pod/Phones, and letting loose in the great outdoors. From ziplining and paintball to a fish spa (indeed!) and jumaring (a fun climbing technique for the uninitiated), there's plenty for everyone. Oh! And did we mention poolside barbecues?
The activity zone is what wins the place brownie points. One of the few resorts to offer high ropes (an obstacle course of ropes, suspended in the air), ziplining and the Burma Bridge (the wobbly rope bridge at a height), you can really spend the whole day mastering the act of being a monkey. And entertaining, when one person in the party isn't very stable. We might go back for the zip lining — closest to feeling like you're free-falling. Archery and zorbing were two activities we didn't have time for, unfortunately. We did have a quick gander at archery — needless to say, we need plenty of practice. Hopefully, we'll check into Mango Mist again for that and some zorbing. Imagine walking inside a massive transparent ball. So much Instagram fodder!
While their day trips are just as fulfilling, staying here gives you more time to relax. Then you can indulge in poolside lounging and a splash about. Or hit up the fish spa. We followed it up with beer and barbecue before the old school campfire got everyone singing songs like it was 1985! Accommodation is either camping tents for those who want to rough it out or cottages for those who love a spot of luxury. All of them are rustic but with that touch of opulence in the form of a plunge pool, Jacuzzi or in the case of the super-luxe cottages (Rasapuri and Rajapuri), an attached pool.

What Could Be Better
While paintballing is rather exhilarating, give it a miss if you're in a small group. It's not as fun. They don't exactly encourage mixed groups either, due to the differently priced packages.

Pro-Tip
If you reserve three or more days in advance, you get a 10 per cent discount. They also have additional seasonal discounts.
More Information
Mango Mist Resorts
Nearest Metro Station: Mysore Road
Comments