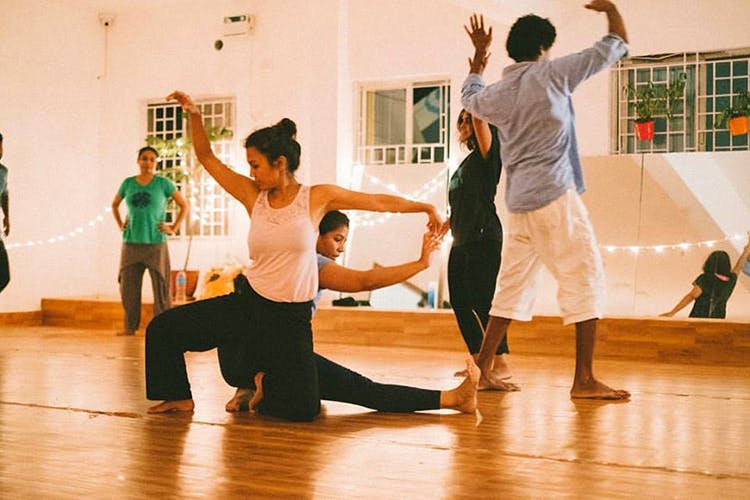 Aerial Yoga To Film Workshops, Pick Up A Set Of Skills At This Collaborative Space
Shortcut
Tap into your inner artist by hitting up Meeraqi, a space solely dedicated to the arts. With classes and workshops across artistic disciplines from dance to design, get the chance to explore many areas and interests at this art community.
All For Art
Be an explorer of art and culture at Meeraqi, a collaborative art space that lets you learn and try your hand at many artistic disciplines. Barely a month old, the space offers classes, workshops and talks in a series of subjects and art forms. Some of the classes you can sign up for as of now include their aerial yoga, jazz, Hindustani music and freestyle dance among a few others. The aim is to keep the list of offerings growing with time and move into different art forms, creating a community open to learning more than one skill and discipline. They also frequently conduct workshops and events on photography, film, theatre and illustration to name a few. With only full-time professionals on board, get expert insight and technique into the form and flow of what you've chosen to learn. The prices for the classes fall between INR 2,500 and INR 3,000 a month. You can sign up for a yoga class as well as a quick guitar lesson if both of these activities pique your interest. As a space, Meeraqi encourages artistic interest that spills over many forms.
A Flow Of Creativity
The 6,000 square-foot space on Indiranagar's 12th Main Road has a whole range of facilities to take advantage of. With three studios for the classes, including a photography studio and a performance space, a music room, a film screening venue, an open library, a community kitchen, an artist's residency and a co-working space, this spot is a cultural universe in itself. Another major aim is to bring fresh, local talent to the forefront by working as a concert venue and an exhibition space as well. So if you're looking for a gig, hit them up and see if you've got what it takes to bring your performance here. Conducting at least one event every month, this community keeps on growing and covering more artistic ground in the process. Check them out here to have a look at their many offerings and maybe give one of their workshops or classes a shot. Or simply swing by and drop in to check out their many cultural programmes.
More Information
Meeraqi
Nearest Metro Station: Indiranagar
Comments