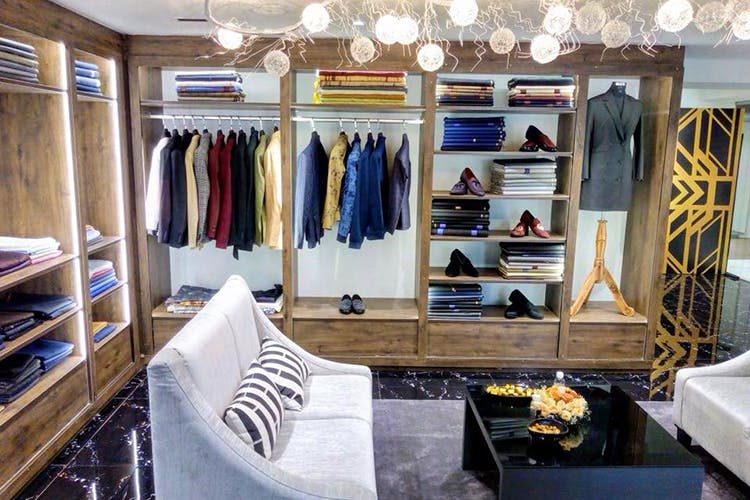 Men, We Have Got The Ultimate Guide To Get Festive Or Wedding Ready
Wedding or festive season is right around the corner at any given point of the year, and when it's not, it's always good to be prepared for it lest you get caught up with life and forget about it (we know we have). If you're a guy and clueless about where to start or just need a quick list to refer to because it's less work, we've got your back fam! Clothing, grooming, and accessories, here's where, how, and what to do to prepare yourself.

Clothing
There's more to clothing than just shirts, kurtas and trousers we know. If you've got the time, why not get something custom made to perfectly fit you (prices will be cheaper off season for sure) at 108 Bespoke Studio if you've got a bunch of events you need outfits for or at MK Suits if you're looking just for a suit, even components of it to match what you already have. Don't have the time? Book a home visit through Tailorz.in instead! (you can even just buy material from Colectivo to get stitched wherever). If you want to bring out the big guns and go designer, check out Paresh Lamba for Indian and Western wear or hit up Commercial Street for some great ready made ethnic wear on a budget, and if you've got a little lad who needs to to look dapper, Mantri Mall has all you need.

Shoes And Accessories
The accessories maketh a man we hear. Okay that's a lie, but accessories definitely add a bit of pizzaz if that's what you're going for and anyone who's worn a suit will tell you the same when it comes to bow ties, ties, and/or cufflinks if you're really looking to make an impression without being OTT. If you're not too hot on all the frills, pick up some shoes to match with your ethnic or dapper suit, and while Comm Street will always be there if you know what footwear (and size, specification, brand and the like) you're looking for, explore online.

Skincare And Grooming
We believe that grooming and skincare is equally important for men and women (got to look our best for those pictures, hey?) and going au naturel is one of the best ways to start, product wise. Keep your skin well maintained, or just the facial hair (the beard is a trend that's here to stay) if you're blessed with great skin that needs just the basics. Rather get get groomed ? Get a Royal shave or something suave on a budget when you're pressed for time to be event ready!

Fitness
In cases of destination weddings or fam-jam holidays, always expect a pool, beach, or both where you're staying. Don't be caught unprepared (we mean a lack of stamina obviously) when it comes to getting into the pool or dancing the night away. For meeting specific fitness goals, personalised training is a great option. If you're just looking to get fitter for all the dancing try one with group lessons (or go with the whole fam ). Of course, sometimes all you have to do is find a squad and go with yours to play some good ol' football to get that athletic physique.

Ask Ahalya a question